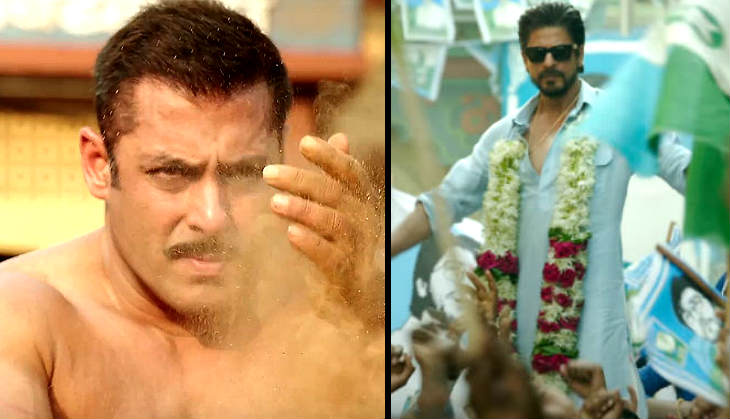 It is finally official that Shah Rukh Khan's Raees will not clash with Salman Khan's Sultan at the Box Office this Eid.
An official statement by Ritesh Sidhwani of Excel Entertainment states that it was not an easy decision to opt out of the clash, however circumstances demanded that it be done.
"It was not an easy decision to move the film. We understand that our movie is highly anticipated. However, a film of such magnitude requires appropriate showcasing. Therefore, we have decided to shift our release date," it read.
Though a section of fans on social networking sites are upset with the fact that their superstar decided to move, here are 5 reasons it made sense NOT to clash with Sultan:
Also Read: Raees, Sultan clash averted: 5 Reasons this is the best news for Bollywood
Salman Khan and Shah Rukh Khan are two of India's biggest superstars and their films come with a minimum guarantee of opening at unbelievable numbers in the opening weekend. While individually, the films have the potential to rake in over Rs 100 crore in its opening weekend, the clash will restrict the collections at a maximum of Rs 65 crore each.
While the clash is a win-win situation for exhibitors (theatre owners) as most of the shows will run to packed houses, the distributors, especially Raees', might entail losses just like 90 per cent of people distributing Dilwale had to.
Also Read: 5 things you didn't know about Salman Khan-Anushka Sharma's Sultan
Both Salman Khan and Shah Rukh Khan have stepped out of their comfort zone for Sultan andRaees, and both films have generated a lot of buzz with the first look and teaser. Even if both carry extraordinary word of mouth, it would be difficult for them to make it to the list of top grossing Bollywood films.
One would like to believe that two big films can release simultaneously with the example of how both Lagaan and Gadar: Ek Prem Katha succeeded despite clashing. But very few know that Gadar had dented the collections of Lagaan considerably. While Gadar went on to collect over Rs 70 crore, Lagaan couldn't rake in even 50 per cent of that. Don't you think Lagaan would have done better monetarily if it had a solo release?
We all would want a good film to do well. However, the industry has some minimal expectations from a film starring superstars. If Raees and Sultan clash, and either of the two do not meet audience expectations, there is a huge possibility that the films will be declared flops. A solo release will at least ensure record breaking collections over the weekend, which will put a few distributors in the safe zone.