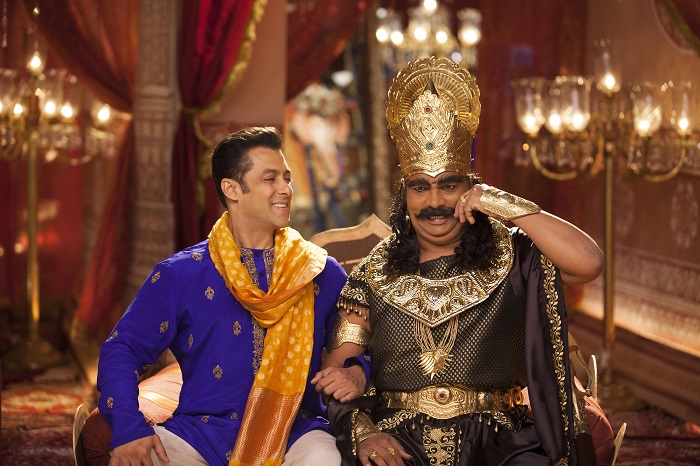 Salman Khan returns with Sooraj Barjatya 16 years after Hum Saath Saath Hai. Speaking about the journey from the 1999 family drama to Prem Ratan Dhan Payo, Sooraj Barjatya said,
"Salman Bhai wanted to do Saif Ali Khan's role in Hum Saath Saath Hai, but I told him 'Woh sab hum logo ne kar dia hai, we need to try something different.' He agreed and did the role and I think Salman Khan as Prem was the best part about Hum Saath Saath Hai."
Also Read:
PRDP: I have this tough look to keep people away from me, says Salman Khan
The director, who is pretty confident that Prem Ratan Dhan Payo will recreate the magic created by the two in the 90's, said,
"In Hum Saath Saath Hai, Salman Bhai as Prem used to question about the poverty in our country and Prem Ratan Dhan Payo has the answer to all the questions asked by Prem in Hum Saath Saath Hai. Prem Ratan Dhan Payo is all about what Ratan and Dhan means to us."
While everyone knew about Salman Khan's double role in the film, no one really knew what sort of conflict arises between the two Salmans, until now.
Also Read: #FlashBack: Salman Khan-Sanjay Dutt starrer Dus was never completed. But what was it about?
On being asked about the double role, Sooraj Barjatya said,
"There is a double role in this film of Salman Bhai. One is Prem, who is from Ayodhya and does Ram Leela and there is a prince Vijay who speaks French, Italian, and German. The prince believes that it is better to live alone rather than living with a family having so many problems and on the other side there is Prem who believes 'Har family main problem hote hai, par khush naseeb hai who jinki family hai'. So we have two Salmans debating on the sanctity of family."
Prem Ratan Dhan Payo releases on 12 November 2015.