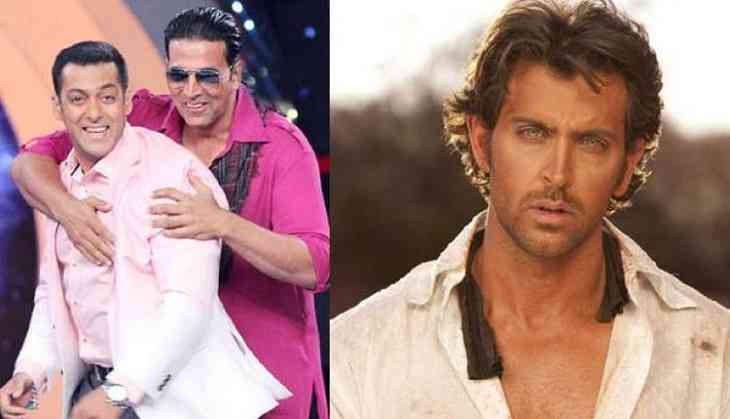 Salman Khan - Akshay Kumar - Hrithik Roshan
Salman Khan has paid an advance tax of Rs 44.50 crore for the financial year 2016-17 thereby emerging the highest tax payer of the year amongst Bollywood stars.
The superstar, who delivered a Blockbuster in the form of Sultan in 2016, earned over Rs 100 crore from the film. Apart from Sultan, he was also the highest paid actor on television as he reportedly earned approximately Rs 120 crore from Bigg Boss 10.
Following Salman Khan was Akshay Kumar who paid an advance tax of Rs 29.50 crore for the same financial year. The Khiladi too had a very successful year as he delivered three consecutive Rs 100 crore films which made him take a hefty pay cheque.
On the third position is Hrithik Roshan. Despite Mohenjo Daro tanking at the box-office, the actor had charged upfront fees of over Rs 50 crore which has made him find a place in the list. Jr. Roshan has paid advance tax of Rs 25.50 crore.
What has surprised the income tax department is the advance tax amount paid by Aamir Khan. Despite the record breaking success of Dangal, Mr Perfectionist has paid advance tax of merely Rs 14.80 crore.
List of top advance tax payers (as reported by India Today website):
Salman Khan: Rs 44.50 crore
Akshay Kumar: Rs 29.50 crore
Hrithik Roshan: Rs 22.50 crore
Kapil Sharma: Rs 23.90 crore
Ranbir Kapoor: Rs 16.50 crore
Aamir Khan: Rs 14.80 crore
Karan Johar: Rs 11.70 crore
Deepika Padukone: Rs 10.25 crore
Kareena Kapoor: Rs 7.00 crore