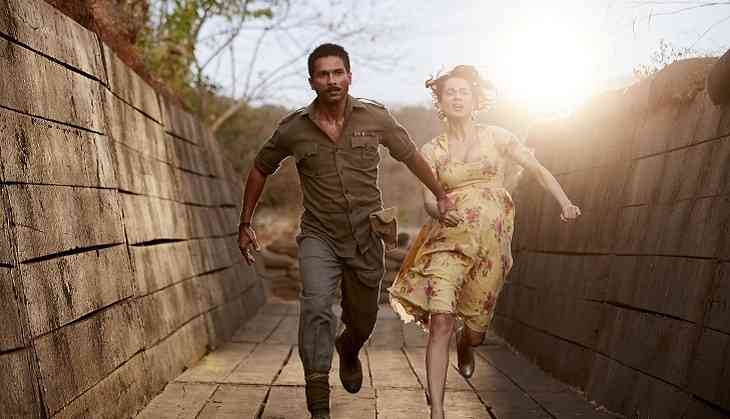 Shahid Kapoor and Kangana Ranaut in Rangoon (Movie Still)
Rangoon starring Shahid Kapoor, Kangana Ranaut and Saif Ali Khan in lead has released on nearly 2000 screens across the country. The Vishal Bhardwaj directorial failed to grab the eyeballs as neither the trailer nor the songs struck the right chord with the audiences.
The budget of the film is on the higher side as the director has mounted it on a huge scale. The poor pre-release buzz in itself sealed the fate of the film as it was important for a costly film like Rangoon to open in double digits and from thereon carry forward the momentum.
Target audience:
Vishal Bhardwaj films usually appeal to a very niche section of audiences, but with Rangoon he has made an attempt to widen his audience base. At the outset Rangoon is a multiplex-centric film. However, there is more likelihood of it working only if there is a good word of mouth going for it.
Box-Office Prediction:
Opening Day: Rs 6.50 crore
Opening Weekend: Rs 20.30 crore
Lifetime Collections: Rs 36.50 crore
Analysis:
Rangoon is all possibilities might not live up to the expectations. According to our sources, the film budget is around Rs 65 crore and given the content, a steady trend at the ticket window is unlikely.
The film genre isn't satellite friendly, which means there might not be much scope of recovery from ancillary sources as well.