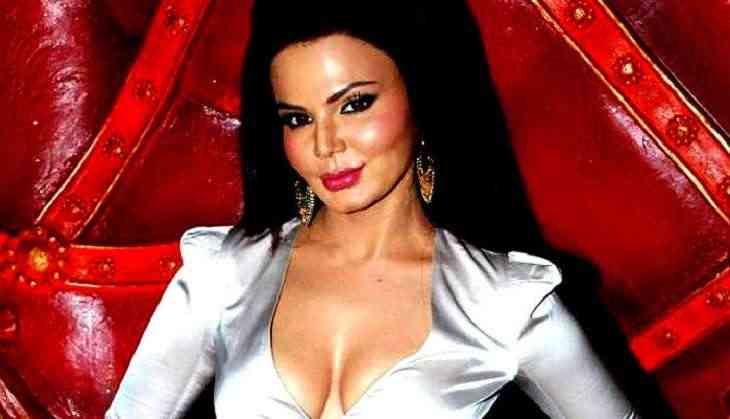 Rakhi Sawant on Valmiki remark row: never knew a case was filed against me
Giving a fresh twist to the ongoing controversy, the Queen of controversy Rakhi Sawant, on Thursday, claimed she never knew a case had been filed against her for making derogatory remarks on sage Valmiki, who wrote the mythological Hindu epic 'Ramayana'.
Addressing the media, Rakhi said, 'There is no official information that there is a case against me. I don't even have any official letter that there is a case against me. I don't know anything.'
'I am shocked. No police officials came to my house. If the Ludhiana Police came to Mumbai, they should have contacted me. I have not received any warrant,' she added.
Earlier on March 9, a local court in Ludhiana issued an arrest warrant against the Bollywood actor for allegedly making inflammatory remarks against the sage, which has allegedly hurt religious sentiments of the Valmiki Community.
Rakhi had on Tuesday claimed she was arrested by the Punjab Police in connection with the case.
However, the Ludhiana Police had denied confirmation of the same.
'A non-bailable warrant was issued against Rakhi Sawant from the court. To get it executed, a team from Ludhiana has been sent to Mumbai. There has been no confirmation regarding the arrest,' Ludhiana Police Commissioner Kunwar Vijay Pratap Singh told ANI.
Rakhi, however, today said that she was not arrested but she herself surrendered before the police.
'Why should I contact the Ludhiana Police if I have not done anything wrong? A year back, I had apologized to the Valmiki Community but they spoke to me very badly and rudely,' she said.
'They have blackmailed me to come to Ludhiana and they will gang up against me. I trust the Indian Government and the Indian Law. My bail is not done yet. I want high security and only then will I appear before the court in Ludhiana,' she added.
While speaking about the controversy created in the name of Valmiki, the 38-year-old actress said that she used the example of Valmiki's change of soul to explain the change in her friend and singer Mika Singh, when he was accused in an assault case.
'I just gave an example from what I have read in my childhood. Just like Valmiki, who got changed from being a robber to a saint, Mika Ji also has changed. It was just an example,' she said.
'My mom has already suffered a heart attack because of all these controversies. It is affecting my family and my career,' she added.
The actor also urged the Prime Minister Narendra Modi-led Government to help her during this 'difficult period'.
'I'm irritated. I want to ask Modi Ji what is happening with the citizens. What is happening with me? I want to request him to help me in this difficult period. I have always supported the BJP even though I am not involved with any party,' she asserted.
-ANI