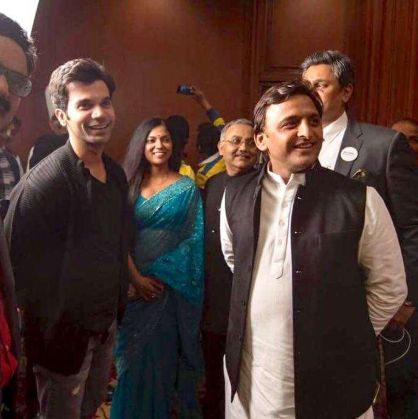 The actor, who took part in a panel discussion in UP, got a chance to hobnob with the CM
Rajkumar Rao, who is in Lucknow currently shooting for one of his upcoming films, Behen Hogi Teri, recently attended a panel discussion there.
The event, Samvad, was about having a live interaction with the masses about the current affairs, happenings across the nation and giving everyone an opportunity to share their viewpoints on various topics. Rajkumar was the special guest of the evening and he spent quite a lot of time interacting and hearing views of common people on various topics.
At the event, the actor was seen engaging with the Chief Minister of Uttar Pradesh, Akhilesh Yadav, for some time. .Yadav, who's made UP very conducive for film shootings, was heard chatting at length with Rao about cinema and other subjects.
Rajkumar Rao too has been shooting back to back for his projects in the state. He was in Lucknow earlier shooting for his film Bareilly ki Barfi and now he is back there shooting for Behen Hogi Teri.