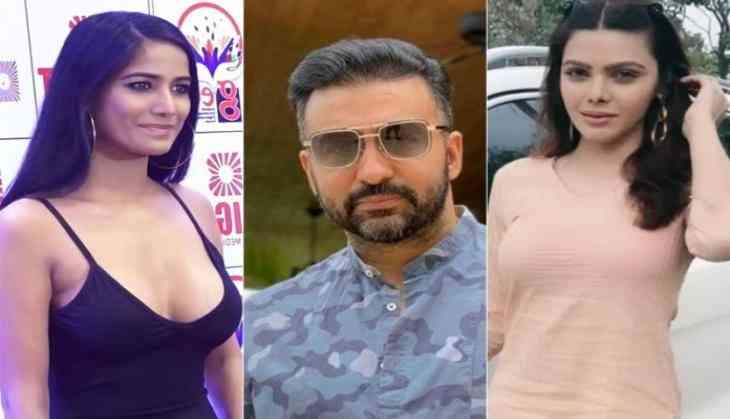 As maintained by sources in the Cyber Crime branch, actresses Sherlyn Chopra and Poonam Pandey were also charged as accused in the pornography case for which Raj Kundra has now been arrested. They game their statements to the Cyber Crime agency. In their statement, the actresses have made allegations against the businessman.
Bollywood actress Shilpa Shetty's husband Raj kundra was arrested by the Mumbai Police on 19th July in a case of alleged production of pornographic films.
The businessman got interim bail from the court in 2020 and the final legal proceeding on the bail application is to take place later this month. According to sources, Sherlyn Chopra had a contract with Kundra's company Armsprime Media to provide pornographic content for some app based outside the country.
According to Sherlyn's lawyer Charanjeet Chanderpal, who had got an anticipatory bail for the actress from Bombay High Court in a matter filed by the Cyber Crime branch, Sherlyn used to manage her own app with semi pronography. Her lawyer said that her work was not doing well and was later found by Raj Kundra. As maintained by the lawyer, Raj Kundra had told Sherlyn that she would earn 50 per cent of the profit. The agreement was signed by Kundra himself.
The lawyer further went on to say that between June 2019 and July 2020, they made a huge amount of cash. However, Sherlyn, understood that she was not getting the cash as promised by Kundra before and for that reason the actress asked for the agreement to be terminated.
Sherlyn launched her own app again and it turned successful for a few month, however, in August last year her content started getting plagiarized, In February this year, Sherlyn is alleged to have given a statement as to how Raj Kundra had pushed her into the porn industry.
In 2019, Poonam Pandey had filed a plea in Bombay High Court to file a case against Raj Kundra and his associates, who had come together with her for an app, and later allegedly used content featuring her even after the contract had been ended
Earlier, the Businessman Raj Kundra stated that he had sold his company's shares and had given the documents of his investments and exit formalities to the cops.
Also Read: Raj Kundra Pornography case: 'Nude Audition' claims model in case involving Shilpa Shetty's husband
Also Read: Raj Kundra's pornography case: From Poonam Pandey to Rakhi Sawant celebs who reacted to his arrest