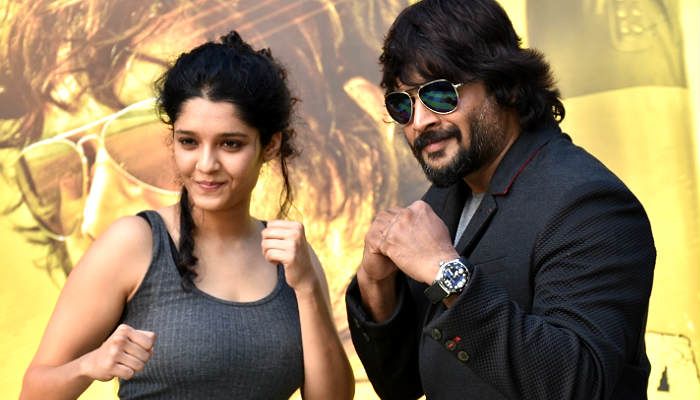 Saala Khadoos actor-producer R Madhavan said he was surprised when director Sudha Kongara Prasad decided to take up a film on boxing.
He said he has worked with Sudha a number of times in the past as she was assistant to Mani Ratnam. At a recent media interaction for his upcoming flick, Madhavan said he did not expect Sudha to make such a film.
"When I was told that Sudha would be narrating a script to me, I thought it would be a film on relationships because usually women give you this kind of scripts - relationship-based film or about women's lib (liberation)," he said at a media interaction for the film. So when she said boxing, I felt strange."
But Madhavan said he was impressed with her effort.
"The kind of research that she had done - she had interviewed boxers from Kashmir to Kanyakumari and presented to me all the information about why people take up boxing, what type of parents want to send their girls for boxing and why.

"And considering all these facts, when I heard the story, I felt I couldn't do a script more brilliant than this. So I just took this script from her and bought it".
Sudha, who has directed two films - Andhra Andagadu (Telugu) and Drohi (Tamil) - started out assisting veteran director Mani Ratnam in numerous films such as Guru where Madhavan had also played an important role.
The film is drawing comparisons to Mary Kom but Madhavan said the two were distinct films in their own right
"Boxing is a background to the film. It is about boxing but it is also about the relationship between two individuals. It's a feel good film.. perhaps I haven't done a film more commercial than this."
Saala Khadoos will be releasing as Irudhi Suttru in Tamil.
-- IANS