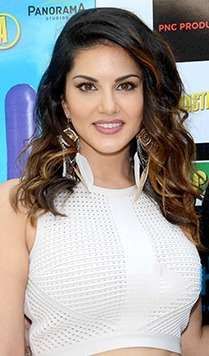 Sunny Leone is all set to sizzle with her item number in Shah Rukh Khan starrer Raees. The actress has started promotions for the song Laila O Laila which the makers have decided to release a month in advance to cash in on festival season.
How was your experience sharing screen space with Shah Rukh Khan? What kind of support you got from him during the shoot and how was your interaction with him?
That was definitely an important day for me and that is the reason why I tweeted about it to express my happiness. It was a big opportunity for me to be associated with such a big film that has a huge star. Even though I have done a three minute song in the film, they have given it a lot of attention. It is a memorable experience for me to be with Shah Rukh in the same frame. He is so talented. He used to constantly think about improvising his scenes during the shoot. He is a professional actor and it is impossible to work with such a popular actor without his support. I could focus on the item song only due to his support. In a way i have got his support throughout the shoot.
Are you in talks with Aamir Khan for any project?
That project is still in my dream. I can't tell you when I will get a chance to work with him. He is a nice person and he keeps experimenting with his acting and subjects he picks in every film. So it is my dream to work with him.
Laila O Laila was originally picturised on Zeenat Aman, did you got a chance to meet her during your preparations for the shoot?
Before this song was offered to me, I had watched the original So I was really happy. It is not the same song but it is a tribute. It is not a remake of the original song, so both the songs are quite different than one another.
How do you look at your journey in this industry so far?
I am happy with my journey, it is difficult to get noticed and create a name for oneself in such a short time. I always thank my fans for their love and support.
You have been appreciated for your Punjabi avatar at your brother's wedding, are you going to try that in any of your films?
Yes, I have been receiving lot of appreciation for it. But I was really tired due to my work that is why I decided to wear the Punjabi suite. I have not yet decided whether I will be using it in future for any of my projects or not.
Tell us about your family, do you like attending family functions?
What to say about my family, as at the moment both (husband Danial) of us are family to each other. I like to take part in such functions because if you want to follow a certain culture then it is right to be fully part of it.
Which family member are you closest to, and how your family supported you in your career?
My husband has always been my big support when it comes to my career and I am the closest to him.
Text By
Rohit Tiwari