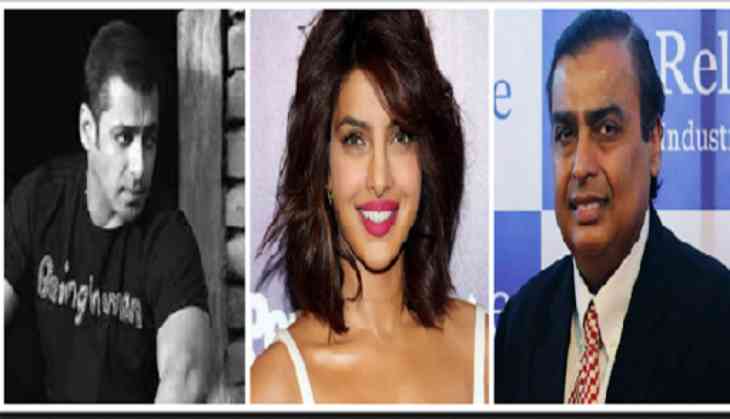 International entertainment magazine Variety has announced this year's Variety 500 most influential people list. In this year's 500 most influential list, Variety has included 12 Indian faces namely Priyanka Chopra, Mukesh Ambani, Salman Khan, Karan Johar, Aditya Chopra, Ekta Kapoor, Sidharth Roy Kapur, Kishore Lulla, Punit Goenka, Anil Ambani, Uday Shankar and Subhash Chandra.
Variety with its Variety500 index gives the name of 500 most influential business leaders across the globe who helped in shaping the global $2 trillion entertainment industry. The list is updated by Variety every year. The editorial board of variety selects the list of 500 influential personalities.
Here is the list of Indians on the list:
Salman Khan: The Bollywood superstar Salman Khan is also known as the king of Box office. The actor has a glorious career of more than 20 years in the Indian film Industry.
Priyanka Chopra: Megastar Priyanka Chopra is looking for global dominance with her performance in the ABC hit Quantico. The Indian actress has already been listed on the list of World's 100 Most Powerful Women in 2017, Forbes list.
Mukesh Ambani: The richest person in India Mukesh Ambani is the first son of Dhiru Bhai Ambani. Ambani has created a buzz in the telecom sector by providing free data to its users for a year. Ambani created a trend in the telecom sector of giving cheap data to its users.
Anil Ambani: Anil Ambani is the second born of Dhiru Bhai Ambani and he is married to Bollywood actress Tina Munim.
Karan Johar: Karna Johar is the son of Hiroo Johar and Yash Johar. Kjo has given many blockbuster movies to Bollywood. Some of those include Kabhi Alvida Naa Kehna, My Name Is Khan, Kuch Kuch Hota Hai and Kabhi Khushi Kabhie Gham.
Aditya Chopra: One of the most popular and well-known directors of Bollywood Aditya Chopra. Aditya Chopra made directional debut with 'Dilwale Dulhania Le Jayenge'.
Ekta Kapoor: Ekta Kapoor is a popular Television producer, Ekta is the daughter of Bollywood superstar Jeetendra Kumar.
Sidharth Roy Kapur: Sidharth Roy Kapoor is the President of Film and Television Producers Guild of India. Sidharth is the founder of Roy Kapoor films and Managing Director of The Walt Disney Company India
Kishore Lulla: Kishore is the chairman of Entertainment firm Eros and he is also a member of British Academy of Film and Television Arts and Young Presidents' Organization.
Uday Shankar: Uday Shankar is the chairman of the board of Star India Private Limited.
Punit Goenka: Punit Goenka started his career with Essel Group.
Also Read: 5 times when Priyanka Chopra shut down 'American media'
Subhash Chandra: Subhash Chandra is an independent member of Rajya Sabha Haryana. Chandra is also the chairman of a leading global media and entertainment industry named Essel Group. Chandra is often called a visionary and a self-made man.