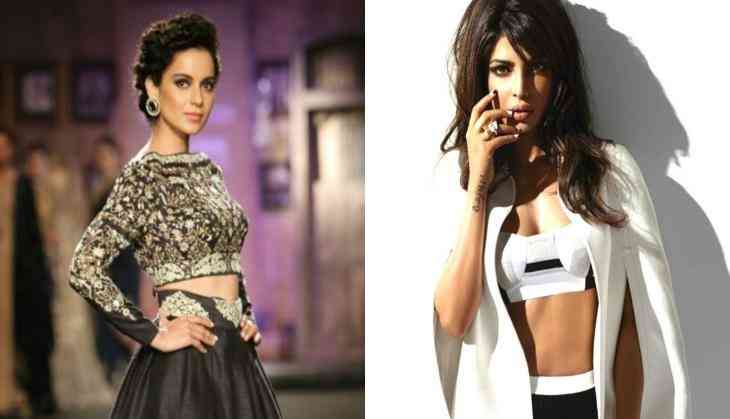 Bollywood Diva Kangana Ranaut, who is currently promoting her film 'Simran', recently made the headline in media for her controversial statements. Apart from acting Kangana is all set for her directional debut with 'Teju'.
While talking about film making, Kangana said in an Interview, "I feel I can do a lot as a creative person. I can build material that is unusual and has a fresh take. I want to direct and write and see how that adds to my growth. If that doesn't work out, then at least I'll realize this is my maximum growth."
Recently when global desi girl of India Priyanka Chopra was asked in an interview about Kangana's statement she said, "I don't think so, I am doing that as a producer. Everything I do is with instinct and experience of working with the most prolific filmmakers in India. What I know best is what I'd like to do and I'd like to work with experts in their field who know what they're doing and collaborate. I am not someone who feels the need "SAB KUCH MUJHE KARNA HAI, MERA NAAM SAB JAGAH HONA CHAHIYE" Film-making is not rocket science, it's just great people coming together wanting to tell a story and having fun while doing it and that's the environment I have created at Purple Pebble and that's how I work as an actor. "
The Quantico fame also added that "If I have an opinion I will talk to the producer-director, but I am not someone who will impose their decision on someone. I am someone who will suggest something if they find it sensible, they take it. If you don't, we have a logical conversation.I am very zen and peaceful like that. I am not a fighter- not combative. I don't like it, that's not what film-making should be. I can't work in an environment which is toxic."
Not only this but PeeCee also added that "I am just not honest with a boxing glove, I am just honest, nicely."