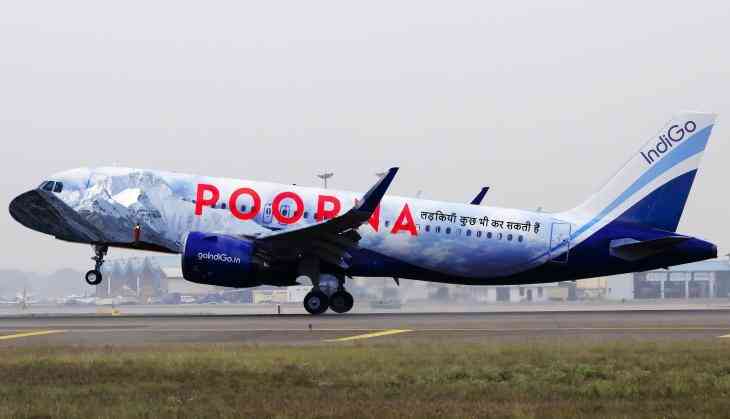 Few tie-ups between a film and a commercial partner have been as organic as the one between 'Poorna' and IndiGo:
1. The airline that promises a top of the world experience meets the film that takes you to the top of the world.
2. The airline that prides itself on peak performance ties up with one of the greatest performances at the peak of the highest mountain in the world.
3. The company that spends most of their CSR on the education and empowerment of girls meets the ultimate women's empowerment story.
Commenting on this partnership, Rahul Bose, Director and Producer of 'Poorna' said, "It was just a perfect fit to partner with a brand like IndiGo that consistently recognizes and respects the incredible achievements of women. I hope this partnership turns into a lifelong friendship of shared values." The co-producer of 'Poorna', Amit Patni, Founder of RAAY Media said, "When Rahul suggested we tie-up with IndiGo airlines we immediately agreed. Their professionalism, commitment to excellence and 'Girl Power' initiative left us in no doubt that this would be a natural, mutually productive partnership."
Commenting on this, Mr Aditya Ghosh, President and Whole-time Director, IndiGo said, "It is indeed an honour to be associated with a movie such as Poorna that reminds us of a young girl's extremely difficult yet courageous journey. Her exemplary display of determination, self-discipline and physical fitness is an inspiration for all of us. I would like to congratulate Rahul Bose for creating such a masterpiece and I am confident that the movie will receive love from the audience."
Mr. Ghosh further added, "At IndiGo, we believe that women have the power to change any industry and with this belief we have endeavoured to empower women (both employees and communities outside). Our collaboration with Poorna aligns naturally with our ongoing programmes – #GirlPower and #FitToFly that believe in empowering everyone inside and outside the organisation with better opportunities."
'Poorna' is based on the story of the life of Poorna Malavath, an Adivasi from Telangana, who in 2014, at the age of 13, became the youngest girl in history to climb Mount Everest. It powerfully encapsulates all the lessons of empowerment of the socially marginalized, gender equality, the importance of education, and last but not least how with courage, determination, and hard work, a child can achieve anything!
About IndiGo
IndiGo is India's largest airline with a market share of 39.8% as of January 2017. IndiGo is one of the fastest growing low cost carrier in the world (source: CAPA). IndiGo has a simple philosophy: offer fares that are always low, flights that are on time, and a travel experience that is courteous and hassle-free. IndiGo, with a Technical Dispatch Reliability of 99.85%, has one of the best On Time Performances in India. With its fleet of 129 Airbus A320 family aircraft, the airline operates 883 daily flights connecting 44 destinations. IndiGo is led by its President and Whole-time Director, Aditya Ghosh and is promoted by InterGlobe Enterprises and Mr. Rakesh Gangwal, an aviation industry veteran and entrepreneur.