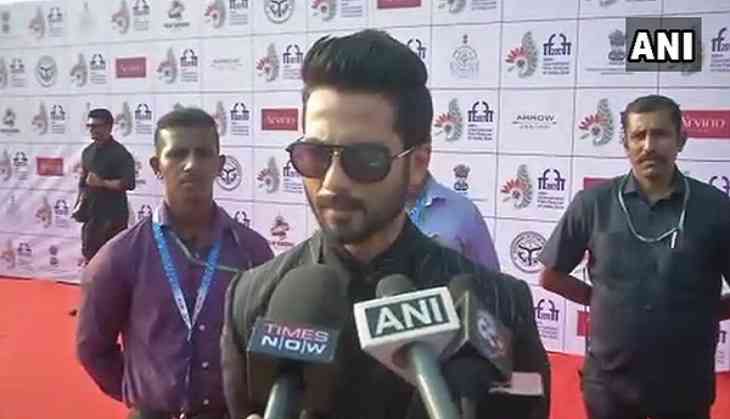 Inspite of all the controversies ensuing over the release of `Padmavati`, Bollywood star Shahid Kapoor expressed confidence that the film 'will come out and that too in full force'.
This is not the first time that the actor's film has been caught in controversy and struggling for a release.
Talking about the same, the 'Haider' star said, "'Udta Punjab' also had a lot of drama before it came out. But I am very optimistic because eventually it released and was loved by everyone. It is one of the most significant films of my career. The people who it was about, the state of Punjab, even their reactions were so beautiful when they saw the film. And I really feel it would be similar for 'Padmavati'."
"Sometimes films of this nature are more difficult to get through to the people than usual. Sometimes it gets a little complicated," he told media at the red carpet of the India International Film Festival (IFFI) 2017 on Monday.
When asked if all this is disappointing for him, Shahid said he chooses to be optimistic till the due course of the certification process is over.
"This is not the time to be angry; this is not the time to lose your cool because there are enough people doing that right now. So I would choose to say that I believe in the process and I am very optimistic. I am sure 'Padmavati' will come out. Once people see the film, they will be proud of it like we are. All of this will be forgotten then," said the 36-year-old.
The 'Rangoon' star added, "Our constitution says that you are innocent until proven guilty. Same should be extended to 'Padmavati', it should not be considered guilty even before it is provided for people to judge it."
Also present at the red carpet was Central Board of Film Certification (CBFC) chairperson Prasoon Joshi.
When asked about the certification process of Sanjay Leela Bhansali's magnum-opus, Joshi said, "We are trying to follow the procedure. At this point, instead of all the chaos, discussion is required."
-ANI