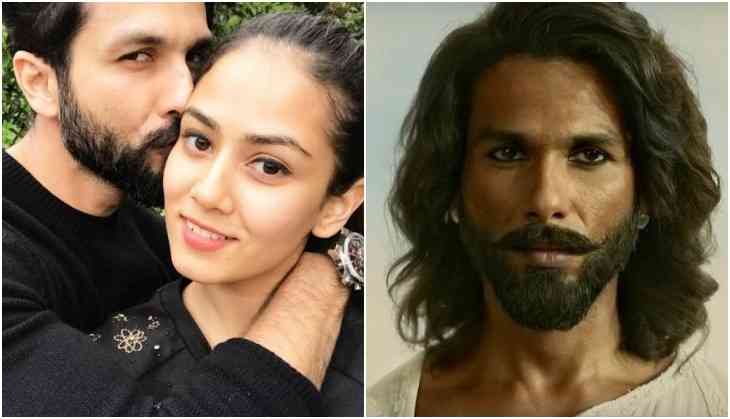 Padmaavat: Shahid Kapoor's wife Mira Rajput's reaction after watching the film is priceless for the actor
Sanjay Leela Bhansali directorial film Padmaavat is getting appreciated a lot and actors Ranveer Singh, Shahid Kapoor, and Deepika Padukone have played leading roles in the film. Haider star Shahid Kapoor was seen in the role of Rajput king Maharwal Ratan Singh in the film and now everyone is appreciating his performance in the film.
Recently in an interview, when Shahid Kapoor was asked what was his Rajput wife Mira Rajput's reaction after watching the film. On this Shahid said, "She hugged me. She helped him a lot while playing this role and without her, I would not have played the role,"
Shahid in the interview said, "I told Mira that I am going to take this risk but I have to take this challenge. This film took more than one and half year time to get completed. During this, Mira helped me a lot. I remember when watched the film she hugged me and said 'I am proud of you'. It is hard but I loved what you did and this is the best performance of yours so far"
Also Read - Padmaavat: After Shahid Kapoor, now 'Khilji' Ranveer Singh gave fitting reply to Swara Bhaskar's open letter
Shahid even said, "Now people are watching my film, they are praising it and showing love to me. During this film everytime Mira supported me. It was a character that needed a preparation before every final shot. It was tired journey during the whole filming time but Mira's support made me strong."
Also Read -Happy Birthday Preity Zinta: Lost father at young age, now one of the successful IPL franchise owner
Padmaavat actor talking about his character said, "When I signed the film I was scared that maybe my character didn't go sideline. It was a Deepika and Ranveer's pair in the film but I had my faith on Sanjay Leela Bhansali. I had to work with him. I signed the film without reading the script."