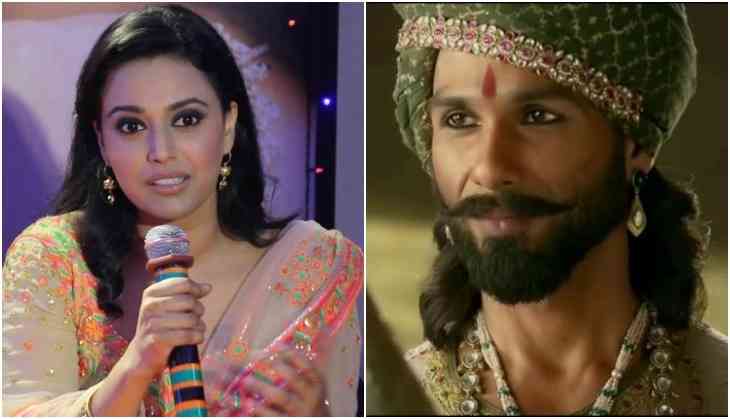 Padmaavat: Shahid Kapoor gave fitting reply to Swara Bhaskar's open letter
A few days back Bollywood actress Swara Bhaskar wrote an open letter in the protest of Sanjay Leela Bhansali's film Padmaavat in which she mainly said that Bhansali's films always revolves around vaginas. She also felt that this film has hurt the sentiments of the women all around.
She also said that at this time when the whole world has forgotten the traditions of Jauhar and Sati showing this culture will underdog other bravery stories of the Rajputs.
Bollywood star Shahid Kapoor who played the Rajput king Maharawal Ratan Singh in the film is upset with Swara's remarks on the film and he also targetted the actress in his own way.
Shahid Kapoor said, In this time when the whole film industry is supporting Sanjay Leela Bhansali's film than in that case Swara's open letter is really odd. Shahid said that there is nothing in the film that will hurt any sentiments of any person.
Also Read - Padmaavat: Swara Bhaskar gets an epic reply in the form of an open letter after her 'felt reduced to a vagina' comment
Well, Shahid is being praised for his performance in the film and some even have said that it is difficult to go underdog in some scenes for Shahid. However, Shahid who himself has married to a Rajput woman supports the bravery of Rajputs totally.
Also Read - Padmaavat: Veere Di Wedding actress Swara Bhaskar slams Bhansali says - "At the end your film revolves around vagina"
This is to notice that when Swara's open letter came out then the writers of Padmaavat also gave a strong reply to her that too in an open letter. It looks like that the actress Swara Bhaskar who have done many unconventionals roles has hot struck this time.