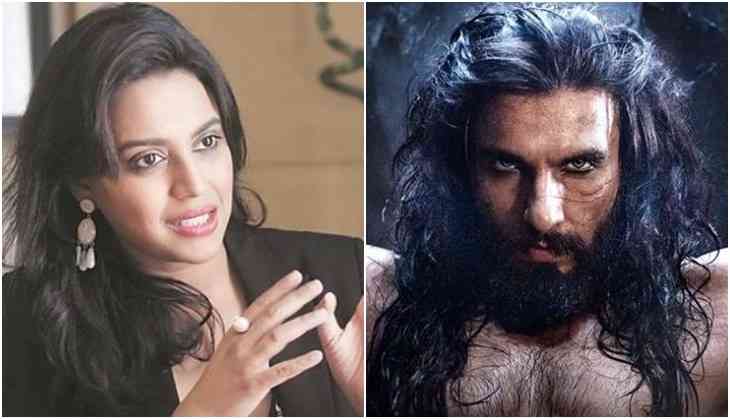 Padmaavat: After Shahid Kapoor, now 'Khilji' Ranveer Singh gave fitting reply to Swara Bhaskar's open letter to Bhansali
Before the release of Sanjay Leela Bhansali's film Padmaavat, the Rajput Karni Sena was in the discussions for protesting against the film. However, after the release now actress Swara Bhaskar is in the discussions. She came to limelight when wrote an open letter to Bhansali for the glorification of Jauhar scene in the film.
However, Bhansali didn't give any reply but now the leading star cast Ranveer Singh, Deepika Padukone, and Shahid Kapoor have come out in the support of the filmmaker and they have given their views on this open letter.
Now in a recent interview, when Ranveer was asked about his views on Swara Bhaskar's open letter to Bhansali. On this Ranveer Singh who played the leading villain Alauddin Khilji in the film said, "Yesterday I got a message from Swara and she praised me a lot for my acting. So I really don't know."
Even the same was asked to Shahid Kapoor earlier, he also replied that "It was an odd to write an open letter but I had not read the letter yet. It is so long and I don't have that much time to read it so I don't what is her problem. Maybe there is any connection with Sanjay Sir,"
Also Read - After Padmaavat, Sanjay Leela Bhansali to direct a high budget musical film; Details inside
However, Shahid also told, "This is not the time to do these things while the whole industry is supporting the film. Padmaavat represents the whole film industry and it also represents the freedom of speech and freedom of expression."
Also Read - Padmaavat: Shahid Kapoor gave fitting reply to Swara Bhaskar's open letter
Well, on the other hand, actress Deepika Padukone also denied all the allegations of Swara Bhaskar said that there is no glorifying of Jauhar scene in the film.