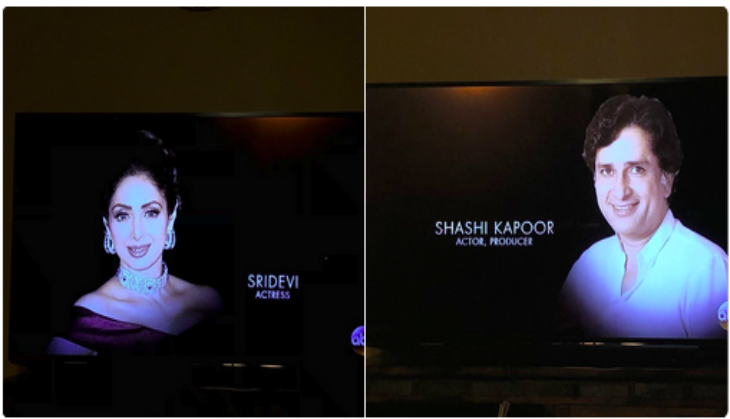 In Memoriam segment, the late veteran Bollywood actors Sridevi and Shashi Kapoor get honored by the Academy awards for their contribution to the world of cinema.
Wow! The #InMemoriam section of the #Oscars both had Sridevi and Shashi Kapoor! Two of India's finest actors :( both gone within a year.. glad that they were featured in this esteemed list pic.twitter.com/ojRoF5U3YV

— Aadit Kapadia (@ask0704) March 5, 2018
The memorial section also featured James Bond star Roger Moore, Mary Goldberg and Johan Johansson, John Heard and Sam Shephard.
American rock band Pearl Jam's lead vocalist Eddie Vedder performed Tom Petty's Room At The Top during In Memoriam montage in the section.
In a mysterious incident the late veteran actress, Chandani of Bollywood, Sridevi breath her last in Dubai. She died due to accidental drowning in the bathtub of her hotel room. She was given a State funeral and her mortal remains were wrapped in the tricolor. The Mumbai police gave her a gun salute.
Sridevi made her Bollywood debut as a child artist and was the first female superstar of the Indian Cinema. The late veteran actress has also shown her versatility in Tamil, Telugu, Malayalam cinema other than Bollywood after succumbing to a prolonged illness.
Shashi Kapoor, at the age of four, started his acting career by working in plays directed and produced by his father. As a child artist, Shashi made his walk in the Indian cinema in the late '40s. He gave his best performance in film Aag and Awara as a child artist. Shashi Kapoor died on December 4, 2017.
Also read: 'The Shape of Water' wins Oscar for best picture
Last year, veteran actor Om Puri who died in January 2017 at the age of 66 was honored at the prestigious ceremony.
The Oscar Awards ceremony was held at the Dolby Theatre in Los Angeles.