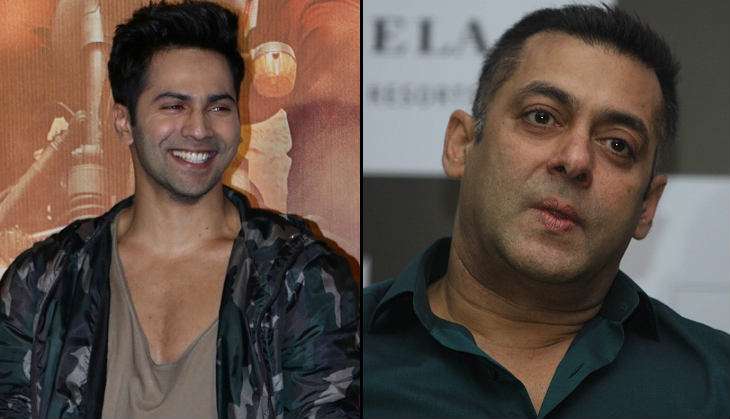 Caveat: Salman Khan was acquitted by the Rajasthan High Court on 25 July in two cases pertaining to allegedly killing deer on 26 and 28 September 1998. The third case, which pertains to allegedly killing black bucks on the intervening night of 1 and 2 October 1998, is pending before the trial courts, and no verdict has been arrived at as yet. Another case related to the incident, filed on 15 October 1998 at PS Luni where Khan is accused of violating the Arms Act, is also pending before trial courts. It was earlier reported that the actor had been acquitted in the black buck case as well.
-----------------------------------------------------------------------------------------
Actor Varun Dhawan, who is currently promoting his upcoming action drama, Dishoom, with Jacqueline Fernandez and John Abraham, commented on Salman Khan's acquittal in the 18-year-old blackbuck and poaching cases.
While promoting his film in Delhi, Varun said the court's verdict should be respected.
"I think the law has to take its course. It's the court's judgement and we have to respect it. So I respect the court's judgement," said Varun.
Varun shares a friendly bond with Salman, who has worked several times with his father, director David Dhawan. In fact, Varun is also stepping into Salman's shoes for a remake of Judwaa.
When Varun's Dishoom co-star Jacqueline Fernandez was asked to comment on Salman's acquittal, she preferred to stay mum.
However, she was happy to share that Kick, in which she starred with Salman, had on Monday clocked two years since its release.
"Yes, I know. I think that's very exciting," she said.
Justice Nirmaljit Kaur of the Rajasthan High Court acquitted Salman of all charges on Monday. The judge also dismissed the state government's appeal for enhancing the sentences.
Salman had appealed before the Jodhpur bench of the high court challenging a lower court verdict in 2006 handing him one and five-years term in the two separate cases of poaching. He and the state government had appealed before the high court challenging the lower court's verdicts on various grounds.
-- with inputs from IANS