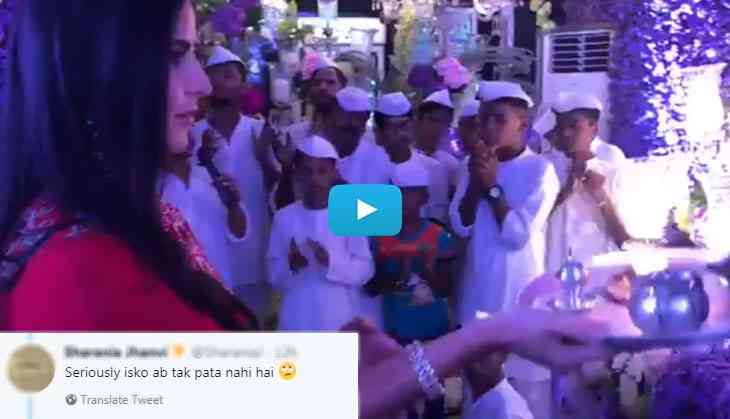 The Ganesh Chaturthi festival has begun in the country and likewise, every common people, Bollywood celebrities have also welcomed the Lord Ganesha to their homes. This year, Bajrangi Bhaijaan's family have welcomed the idol of Ganesha at Arpita Khan Sharma's residence and after this, they have broken their 14-year-long tradition of bringing the deity to their residence, Galaxy.
The whole family have performed all the traditions and also have performed the aarti of Ganpati. A video also went viral in which the Khan family can be seen doing the puja & archana of Vinayaka.
The video has been posted by Salman Khan's brother-in-law, Atul Agnihotri on Twitter. In the video, apart from Bharat actor family, Katrina Kaif was also invited to welcome the Lord Ganesha.
However, Salman Khan, his mother and his brothers Sohail Khan and Arbaaz Khan, the kids in the house, have performed the aarti in a correct way. But Katrina did something wrong because of which she gets trolled brutally.
Before knowing what she had done, see the video first.
Watch Video:


#GanapatiBappaMoraya @beingsalmankhan @arbaazkhanofficial @sohailkhanofficial @arpitakhansharma @aaysharma @alizehagnihotri @nirvankhan15 @iamarhaankhan @katrinakaif pic.twitter.com/bpLKshKD5w

— Atul Agnihotri (@atulreellife) September 13, 2018
Have you noticed what Bharat actress did? Well, she performed aarti in a wrong way which is traditionally and ethically wrong. As you all know that puja thaali should be moved in a clockwise direction but in the video, Katrina moved the puja thaali in an anti-clockwise direction.
Meanwhile, this video went viral on social media and everyone have trolled the actress.
Here's how Twitterati reacted:
Katrina madam aarti Ulta kardiya aapne koi baat nahin Mann mein Shraddha ho bas kaafi Hain next time be careful

— Filmy Guru (@GuruFilmy) September 13, 2018
Omg Katrina did the aarti in a wrong way 🙄 someone could atleast tell her 😒

— Sharania Jhanvi✨ (@SharaniaJ) September 13, 2018
Seriously isko ab tak pata nahi hai 🙄

— Sharania Jhanvi✨ (@SharaniaJ) September 13, 2018
Wohi tohh she is completely doing Arti opposite serioulsy...😓🤦‍♀️

— Sima Shah ✨😍😎👸 (@simashah14) September 14, 2018
Katrina Olti Arti Uthar Rahi H 😁

— Geeta Sharma (@GeetaSh66777841) September 14, 2018
Ye lo katrina ulti Aarti Utar rahi hai are koi to sikhao inhe @BeingSalmanKhan

— Rakhi (@khare_rakhi) September 14, 2018