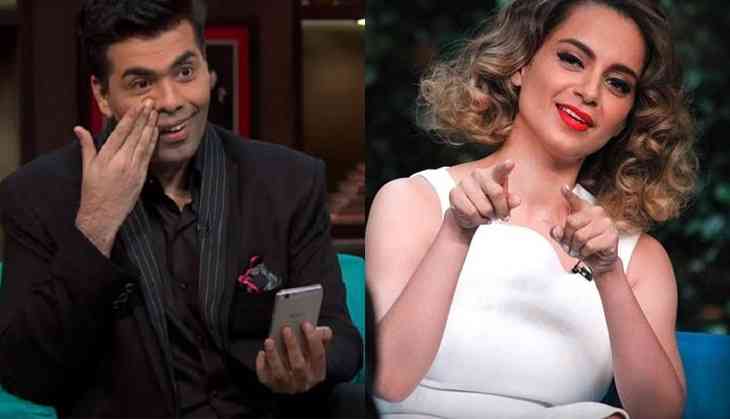 Nepotism Row: Karan Johar to work with Kangana Ranaut once again?
Filmmaker duo Karan Johar and Rohit Shetty are all set to judge a new reality TV show India's Next Superstars. In this show, they both will find the best talent among the contestants who have the potential of being the next superstar. Their judging bar will be based on qualities like acting, dancing, personality and confidence.
The first celebrity judge of the show will be Priyanka Chopra and she even has shot the episode.
Recently in a press conference Karan was asked if he would he like to invite Kangana Ranaut like what he did with Priyanka Chopra.
On this KJo replied, "I am sure if the channel invites Kangana Ranaut on the show, we will happily welcome her."
Also Read - KJ's Bollywood 'Brahmastra': Another 'Bahubali' in the making?
Well, it will be interesting to see both Karan and Kangana together in any show. In the recent past, the verbal and outspoken fight between Kangana and Karan for the nepotism issue has been discussed a lot. Even in the award function IIFA, Saif, Varun, and Karan were seen taking a dig at Kangana on nepotism row.
Also Read - Tiger Zinda Hai enters 300 crores club, Salman Khan proves why he is king of box office
Later Kangana made a YouTube video targetting Karan Johar and his film-making style and just after that video Karan slammed Kangana through a tweet.
This is to notice recently Kangana and Karan both shared an awkward moment when they came face to face during the reception of Virat Kohli and Anushka Sharma. However, Queen actress totally avoided meeting with the SOTY filmmaker.