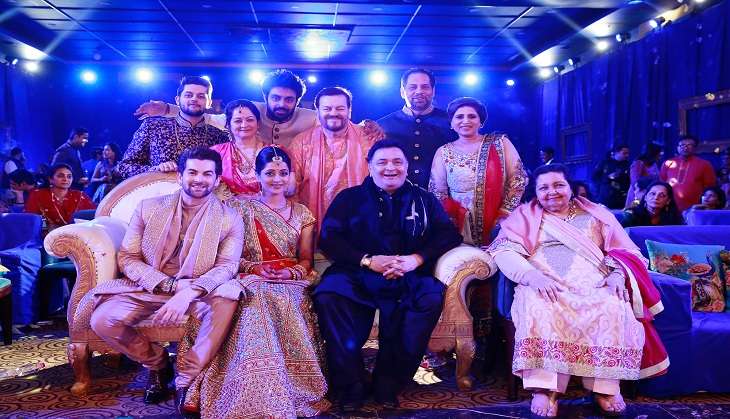 Rishi Kapoor and Pamela Chopra visit Udaipur to take part in Neil Nitin Mukesh's pre-wedding festivities
Nitin Mukesh says, "The venue has been transformed into our private bunglow. The one thing that I have loved about the set up is that a special silver showcase has been put up at the lobby area which has private and exclusive memories of the family, framed in glass and it such a thougtful and unconventional gesture by the hotel."
There were some take home goodies from the pre wedding celebrities. The goodie bag had mojri footwear from Patiala, Punjabi parandas from Ludhiana and leheriya dupattas handpicked by Nishi Mukesh (Neel's mother) from the local bazaar.
Neil and his to be wife Rukmini made a pretty picture as they color co-ordinated their attire with the decor and each other.
Later towards the evening the sangeet kickstarted with a series of choreographed performances and with Rishi Kapoor and Pamela Chopra joining the Mukesh family and friends.
Neil's friends danced on Tu Mera Hero, Kala Chasma, Nashe Si Chad Gayi while Naman's friends danced Batameez Dil and Neha's friends danced to Chittiyan Kalliyan
Nishi and her friends danced to Navrahi Majhi and Nitin Mukesh and his friends danced to to Oh Haseena and London Thumakada
The highlight of the night was Nitin and Nishi's solo dance on Yahi Kahi Jiyaara while the Sahay family culminated the dance sequence with Nachange Saari Raat, Ye Mera Dil and Badan Pe Sitare.
Apart from the dances, Neil's aunt sung Babuji Zara Dheere Chalo and Mera Naam Chin Chin Chu, while Pamela Chopra sang the number, Tujhe Dekha To Yeh Jaana Sanam.