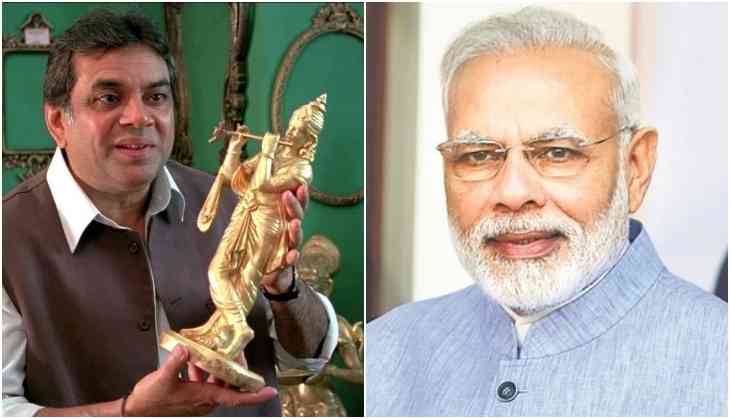 PM Narendra Modi is celebrating his 69th birthday today and the whole nation is celebrating his birthday. PM Modi also started his birthday with an amazing start after the inauguration of Sardar Sarovar Dam. Well, the PM is also getting wishes and happiness from all over the world and Bollywood industry is in all praise for PM.
Interestingly, actor Paresh Rawal who was MP from Gujarat also wishes for the PM Narendra Modi. Paresh Rawal wishes PM Modi with a shloka of Geeta said by Lord Krishna. The quote says "Yada yada hi dharmasya glanirbhavati bharata, Abhythanamadharmasya tadatmanam srijamyaham, Paritranaya sadhunang vinashay cha dushkritam, Dharmasangsthapanarthay sambhabami yuge yuge"
यदा यदा हि धर्मस्य ग्लानिर्भवति भारत
अभ्युत्थानमधर्मस्य तदात्मानं सृजाम्यहम्-
परित्राणाय साधूनां विनाशाय च दुष्कृताम्
धर्मसंस्थापनार्थाय सम्भवामि युगे युगे। Happy Birthday @narendramodi

— Paresh Rawal (@SirPareshRawal) September 16, 2019
The quote means, "I am coming, I am coming, when there is a loss of religion, then I am coming, when the iniquity increases, then I am coming to protect the gentlemen, to destroy the wicked I am coming in to establish religion and I am born in the age of era."
Noticeably, Paresh Rawal has always been a great follower to PM Modi and he always appreciates PM Modi for his steps. Even during Balakot air-strike, Paresh Rawal was quite a highly spoken leader of BJP.
Also Read - Baahubali Prabhas to launch first look of Sanjay Leela Bhansali's film on PM Modi