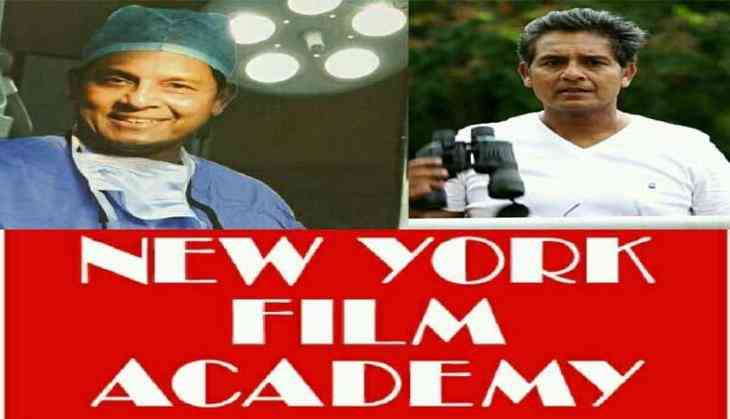 Mukesh Hariawala, who will next be seen in Amitabh Bachchan-Rishi Kapoor-starrer '102 Not Out,' is a Harvard University-Boston alumni, who has taken a sabbatical from clinical work to make a career in films.
NRI Dr Hariawala has to his credit been an internationally revered heart surgeon for over a decade for performing pioneering surgical work.
He recently spoke to ANI about this sudden change in profession.
In 2014, he randomly interviewed for a student spot in the 'Short Term Acting Program' at the world renowned 'New York Film Academy', which boasts of graduates like celebrities Paul Dano, Shaquille O'Neal, Imran Khan and Kangana Renaut.
On a surprise acceptance in the program and full support from his family, he temporarily moved from Boston and started living in a Hotel in New York City close to the school campus.
The faculty teachers included guest speakers such as Steven Spielberg, Andy Garcia, Al Pacino, Kevin Spacey and Glenn Close.
Dr Hariawala graduated from the course in time, and was offered few opportunities to work in Hollywood films to portray Asian characters, since many of his teachers were established directors in Los Angeles.
He politely declined, but chose the route of returning to India and immediately started getting small character roles in films being made by renowned Bollywood directors such as National award winner Ananth Mahadevan, Anurag Basu of 'Barfi' fame, Umesh Shukla 'OMG' and AR Muragadoss, who directed the Aamir Khan blockbuster 'Ghajini'.
He has shared screen space with superstars like Amitabh Bachchan (' 102 Not Out'), Sonakshi Sinha ('Naam Hai Akira') and Zareen Khan ('Aksar 2') and has already signed three more films with top production houses.
Dr Hariawala candidly went down memory lane and opined, "Going to acting school reminded me of Mithibai college days in 1976. The camaraderie amongst acting school students from all over the world has changed my outlook to life. I was the oldest in the class but my classmates and teachers never made me feel so. They were most encouraging of my prospects."
He further added, "I am fortunate and feel blessed to be accepted in Bollywood without much struggle, but I have a lot to learn from senior established actors."
He stated, "I consciously avoid playing Doctor roles which are frequently offered to me, but at my age of 50 plus, I can only expect character roles. I am still anxiously waiting for an opportunity to portray a serious negative or grey shade character that wins the heart of audiences."
On a parting note, Dr Hariawala tongue in cheek quipped about his new chosen profession and quoted "Acting for me is more challenging than open heart surgery, and I am enjoying it".
-ANI