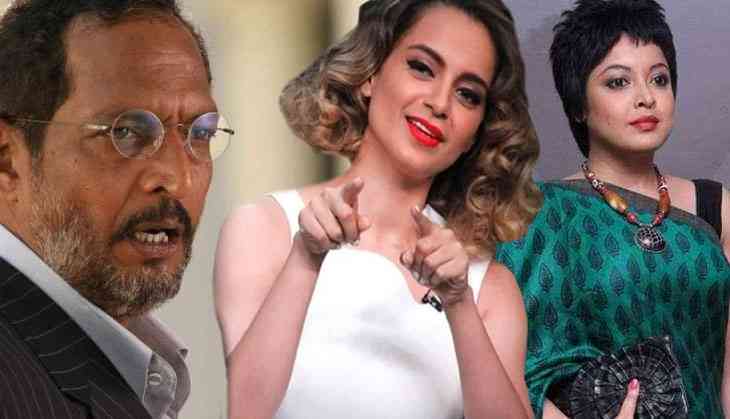 Bollywood Actress Tanushree Dutta, who faded out of the Indian film industry has made a shocking come back with a controversial statement and revealtion of sexual harassment by veteran actor Nana Patekar on the film sets of the film Horn Ok Please with the help of choreographer Ganesh Acharya.
Tanushree made a shocking claims that Nana Patekar misbehaved with her on the set and when she refused to shoot, she was hounded by mob, who were after her. Bollywood actresses like Priyanka Chopra, Sonam Kapoor, Twinkle Khanna have extended thier support to the actress.
Manikarnika actress, Kangana Ranaut who is well known for speaking her mind out has also launched a jibe at the harassment row and lauds Tanushree for her courage on speaking on the harassment in the world of Indian Cinema.
In an exclusive interview with leading online portal Pinkvilla she said, "I am not here to pass judgement. That's neither my place nor my intention. I appreciate her courage to speak about alleged harassment that has been caused to her. It's her and the accused's fundamental right to speak about their experience of the same situation. Such dialogue is very healthy and it will bring about a lot of awareness. Unfortunately, the way most Indian men are raised by their mothers; they even lack basic etiquettes like lifting the lid before peeing."
Kangana further added, "Raja beta needs to be told the meaning of 'NO' as well. It's in the interest of society that the Raja betas are told what their parents fail to tell them. They must know that the fundamental human rights are the same for men and women. Trust me, it will be news to some of them. The kind of rape, harassment and teasing news reports we hear every other day, I wonder if some of these zombies out there qualify to be a human. We need to talk about it and we all must share our stories. It will also bring a sense of shame and fear in them as they will know that a girl can stand for herself at any point in time. Our life stories have no expiry date."
However, it can not be overshadowed that whoever is coming front to support to Tanushree, she is making a counter attack on them as well. Let see, what the actress is now up to.