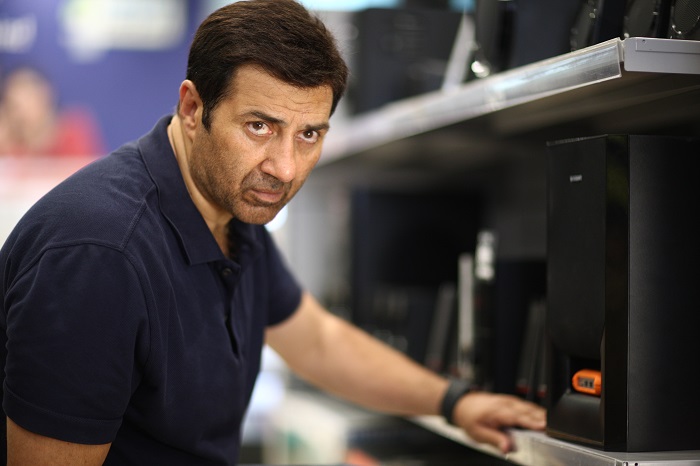 The '90s are remembered for rise of Salman Khan, Shah Rukh Khan, Aamir Khan and the slowly declining stardom of megastar Amitabh Bachchan. Apart from the above mentioned superstars, the decade also witnessed the rise, fall and rise of Sunny Deol, who was a major phenomenon in the decade.
The ones who have watched Sunny Deol films at single screens in '90s can't deny the sheer experience of doing so. The crowd used to hoot and whistle at every punch delivered by Sunny Deol.
The actor had a loyal fan following amongst the masses, which often used to come in huge numbers to watch their favourite star.
Sunny Deol in Bollywood was known for essaying 'raw and intense' characters. Masses started believing that when Sunny Deol was there on screen, nothing could go wrong.
Also Read: Sunny Deol wants to work with Salman Khan subject to this condition
Renowned film archivist and researcher (for Fever 104FM & TV), Divya Solgama (G9) while talking about 'Sunny Deol' said,
"The decade of 1990's is remembered for the Khan's and melodious music but it also has the rise, fall and rise of Sunny Deol. Though his good action films in 80's like Dacait and Majboor failed to do well, these films inspired young directors and Rajkumar Santoshi was one of them. Santoshi made his directorial debut with Ghayal which on paper looked like a typical 80's revenge drama and also had a minor plot similar to Chor Machaye Shor. Ghayal marked the proper rise of 'Sunny Deol - The Action Star.' Sunny Deol's rise continued till Damini, where he had an extended guest appearance. Today all we remember today from Damini are Sunny Deol's dialogues."
"He was invincible when Damini released, he had two National Awards in his pocket and everyone including Aamir Khan feared him, who opted out of Darr as he felt his character was slightly weak in front of Sunny Deol. Sadly, Darr was one of the biggest low point of Sunny Deol's career in the 90's for all the reason we know."
Also Read: #CatchFlashBack: When Yash Chopra sidelined Sunny Deol for Shah Rukh Khan
"Sunny Deol was back in game yet again in 1996 with Jeet, which released 3 years after Darr. Post Jeet, the party continued with Ghatak, Ziddi, Border, Arjun Pandit. Sunny Deol delivered his biggest hit in early 2000's with Gaddar: Ek Prem Katha."
An avid movie lover, Manish Kumar from Delhi shared his thoughts of watching Sunny Deol's Gaddar in single screen.
"I remember watching Gadar In Single screen. Let alone the experience inside the theatre, there was euphoria even outside it as people were fighting to buy tickets in black. Every time Sunny Deol confronted Amrish Puri, the theatre used to roar. It seemed like a war front full of enthusiastic soldiers such was the passion evoked by the movie at that time."
Sunny Deol is currently gearing up for the release of a sequel of the film Ghayal, which established him as an action star.