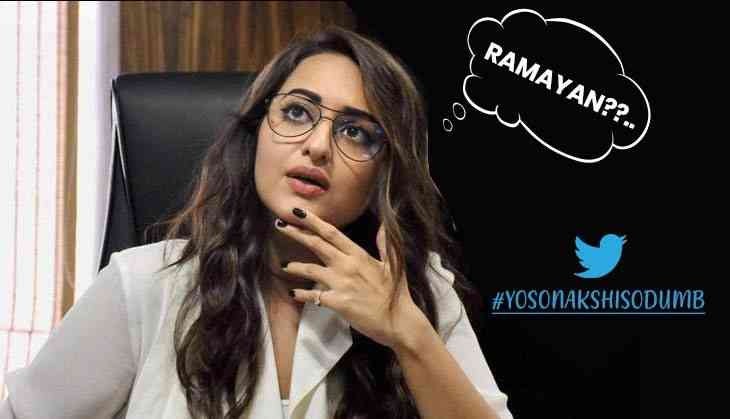 Bollywood Dabangg actress Sonakshi Sinha got trolled brutally after her appearance on Sony TV popular quiz show Kaun Banega Crorepati hosted by Amitabh Bachchan.
The episode of the 11th season was aired on Friday night(20th September).
Sonakshi graced the hot seat along with entrepreneur Ruma Devi. As Friday show is dedicated to the Karamaveer contestant who is sometimes accompanied by Bollywood celebs.
This time, Mission Mangal actress gave a company to Karamaveer contestant i.e. Ruma Devi, President of the Gramin Vikas Evam Chetna Sansthan, who works for village women in Barmer, Rajasthan.
Now, Khaamosh girl has become the latest victim of netizens as she failed to answer the easiest question related to the Ramayana, one of the largest ancient epics in world literature.
Here's the question asked by Amitabh Bachchan to Sonakshi and Ruma Devi:
According to the Ramayana, Hanuman fetched the Sanjeevani herb for whom'.
The options were:
A- Sugreev, B- Laxman, C- Sita, and D- Ram.
On this question, Sona was in dilemma and she thought Sita is the right answer. To answer the question, Sonakshi and Ruma Devi took their last life i.e. Ask The Expert.
Check the video:
Names of few people from #SonakshiSinha
's family:
Shatrughan (Dad)
Luv (Brother)
Kush (Brother)
Ram (Uncle)
Lakshman (Uncle)
Bharat (Uncle)
Name of his father's residence: RAMAYANA
Now watch this video to know why #YoSonakshiSoDumb is trending. pic.twitter.com/mlBsHPee2P

— Tejas (@imTejasBarot) September 21, 2019
Finally, they answered the question with the help of an expert and was able to win the amount of Rs 12 lakh 50 thousand.
Amitabh Bachchan also mocked the actress for this question and said that most of her family members names are inspired by Ramayan characters. As her uncles and father know by the names Ram, Lakshmana, Bharat, and Shatrughan Sinha. While Sonakshi's brothers' names are Luv and Kush.
Even Sonakshi also feel ashamed and said that after this episode the gates of her house 'Ramayana' will be shut for her.
Meanwhile, Sonakshi has become the latest trend on social media for her IQ and netizens are trolling her badly with several hashtags.
Check out how Twitterati trolled the Dabangg girl:
What a script man 👏👏👏 I guess your father needs to teach you the basics of Ramayana @sonakshisinha did expect this from you. Your brothers are named after lord Rama's son luv & khush. Shame #sonakshisinha

— Akshay Rane (@akki_rane) September 20, 2019
Shatrughan Sinha After watching #kbc #sonakshisinha pic.twitter.com/X4M7bNF2Wi

— Swagat Mishra (@Swag_se_swaagat) September 20, 2019
For Others : Lord Hanuman brought Sanjivani for Laxman!
For Sonakshi Sinha : Lord Hanuman brought Sanjivani for Sita!
Ayesa kase chalega didi?
Le Lord Hanuman :#sonakshisinha pic.twitter.com/U8Dur6V1PD

— Pritam Kumar Maity (@impritam_18) September 20, 2019
#YoSonakshiSoDumb She just don't know this silly thing, seriously 🤨🤨😵😱😨😭🤒🤮👎🏻👎🏻

— Abhinav Pandey (@Abhinav46368432) September 20, 2019
Her brothers Name is "LUV and KUSH", Her Father name is "Shatrughan",Her house name is "Ramayan",and she still don't know about the Holy Ramayan..
Dumbest Ever Actress..#sonakshisinha#YoSonakshiSoDumb pic.twitter.com/52dJVPAVKD

— Mohit Verma🇮🇳🇮🇳 (@Mohitt_Verma) September 21, 2019
It's really shocking and disappointing to see someone not knowing the very basics of Indian Philosophy!

Mr. @SrBachchan was in shock when she said "Answer could be Ram or Sita" and asked for Lifeline.#YoSonakshiSoDumb#KBC11#KBC2019 pic.twitter.com/DlxbiQvxlM

— Banarasi | बनारसी (@AnkurGupta___) September 20, 2019
#YoSonakshiSoDumb
That's why Indian gov brought that scheme #BetiBachaoBetiPadhao pic.twitter.com/go9uupMOjP

— Shashwat Bhardwaj (@ShashwatBharad1) September 21, 2019
Just look at this #sonakshisinha said in the first place its sita and then she said Ram. And Lakshmann ji be like
#YoSonakshiSoDumb pic.twitter.com/auqahkAVYC

— Hemant (@ImGaurHemant) September 21, 2019
#YoSonakshiSoDumb
She did the justice with her movie title " कलंक " pic.twitter.com/L1W3tPcNMf

— Memeकाpattaकड़वाhai (@Swap_nil_09) September 21, 2019
#YoSonakshiSoDumb but atleast she is honest about her intelligence quotient pic.twitter.com/NemjcGYbKo

— Chirkutaanand (@Chirkutaanand) September 21, 2019
Everyone : #YoSonakshiSoDumb
Alia Bhatt : pic.twitter.com/4lQ2q8b167

— Niriksh (@nirikshhhh) September 21, 2019
My inspiration is these aunties 👶🍼😍#YoSonakshiSoDumb pic.twitter.com/lxBsCuJjQM

— Hallala Babyboss (@BabybossHallala) September 21, 2019
After Alia Bhatt, Sonakshi Sinha trolled for knowledge.
Hope you all know the right answer of this question..
Also Read: BB 13 Promo Leaked: TV actors Siddharth Shukla, Devoleena Bhattacharjee confirmed to enter show; see video