Kangana Ranaut is not the least bit bothered about the raging controversies surrounding her and Hrithik Roshan. After receiving her second National Award for Tanu Weds Manu Returns, she said she is in the best phase of her career.
Kangana, in an interview to a leading daily also talked about her upcoming film, Rangoon. Typically, she said Rangoon has three heroes -- Shahid Kapoor, Saif Ali Khan and Kangana Ranaut!
The first actor in the Hindi film industry to have taken up the issue of No Pay Disparity between male and female actors, Kangana Ranaut once again cleared her stance on the same. She mentioned the coveted Khans of Bollywood and said:
"I feel the Khans are a bit of a case study, a phenomena. However, keeping my other male counterparts in mind, I make sure that I get paid as much as them."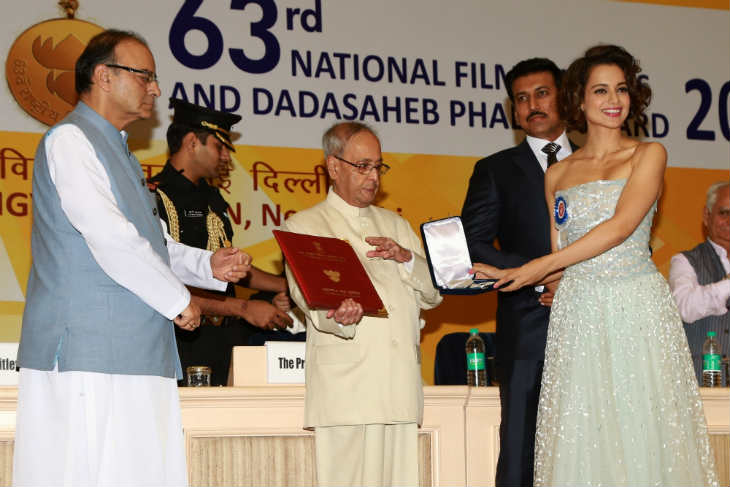 Kangana Ranaut receiving National Award from President Pranab Mukherjee (2016) (IANS)
Moreover, when asked whether she is getting paid on par with her Rangoon co-star Saif Ali Khan, Kangana didn't dodge and answered:
"Yes. I think as women, we need to start doing more significant roles. If I do a small role in a film, maybe one important scene, then I should charge according to that. However, if I am the plot-driving protagonist, then I should charge according to what I am providing as an artist and as an individual to my job."
-- quotes from India Today