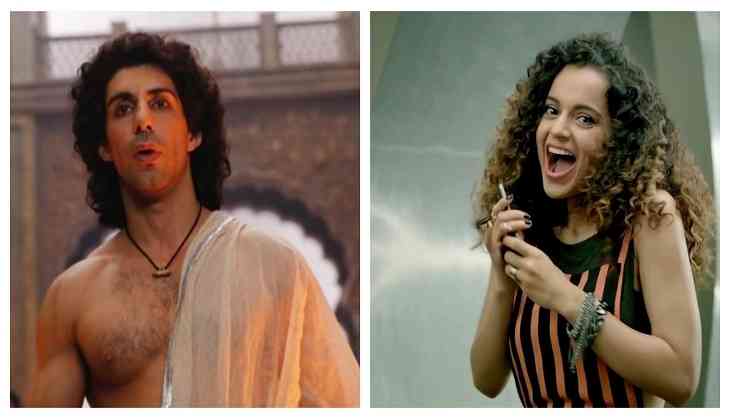 Jim Sarbh and Kangana Ranau
Bollywood actress Kangana Ranaut is famous for her outspoken nature and also for her boldness in the film industry. The actress has fallen into the controversy for her stance on nepotism which had grabbed the attention of whole B-town. Some of them trolled her while some supported her.
The Manikarnika actress, has earlier slammed the Dabangg star Salman Khan over his statement on feeling like a raped woman during the shooting of his 'Sultan' film. Here's what Salman said, 'was feeling like a raped woman after undergoing rigorous physical training for 'Sultan'. Kangana didn't leave Salman for his controversial remark and said that 'We all agree that it is a horrible thing to say; it is something which is extremely insensitive.'
Now, Kangana herself has created a trouble because of a joke on which she reacted. Yes, the Queen actress got trolled by Twitterati from quite a few days after she laughed at rape joke cracked by Neerja actor Jim Sarbh.
The controversy erupted when a video went viral on social media which featured Jim and Kangana at Cannes. In the viral video, Kangana can be seen laughing at a joke on rape cracked by Jim Sarbh.
In the video, Sard was saying that 'I'd rather be raped by 12 prostitutes than touch alcohol and the Punjabi says 'Me too, I didn't know that was an option.'
As he finished up with his joke, Kangana immediately starts laughing along with the other people who stood by them.
Here's the viral video:
Well, Twitterati didn't took it as a joke and they trolled the actress brutally.
Here's how they reacted:
#JimSarbh #KanganaRanaut . If you think that rape jokes are inappropriate, then say so.
Rape jokes are not funny in any context https://t.co/GY1xyMuDlu

— Yamini P.Bhalerao (@yamini_pb) May 19, 2018
Practice what you preach

— Wanderer (@Wandere80590222) May 17, 2018
Rape is a dark word. Let's not water it down to describe a brutal gym session or a bad day at work or with a joke.@jimSarbh #KanganaRanaut have some sense before cracking such jokes !!

— Dhruvesh Shah ✨ (@dhruveshshahz16) May 17, 2018
Jim Sarbh is cancelled.
One. He made a hideous joke and included a vital thing called 'Rape'
Two. he included 'prostitute' in that "I would rather be raped by 12 prostitutes..." are you freaking kidding me ? you just stated that they are as equal as Rapists ?
Go get a life man

— Fuddu (@_shruti_singh_) May 15, 2018
Nangana ranaut ko sirf film promotion ke taim pehi womanism aata he bakito to vo khud ra#$% he.

— Happy Roshan (@HappyRoshan101) May 18, 2018
What else were you expecting from fake opportunists like her. She needs a pre-rehersed script to fool people whereas her true colors are on display through such pathetic acts.

— Ray (@BeingAntiHero) May 18, 2018
This year it was Ranaut's first visit to the prestigious film festiva 'Cannes'.
Well, this is really unacceptable remark from celebrities. As rape crime in India has been increasing day by day and cracking a joke on such heinous crime itself is a shame.
Watch Video:
Also read: Cannes 2018: Deepika Padukone to Kangana Ranaut, here's how Bollywood actresses stunned at the red carpet of the film festival; see pictures