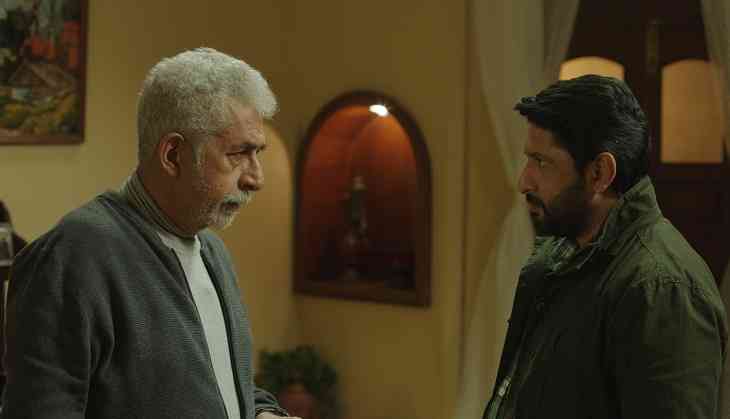 Arshad Warsi and Naseeruddin Shah in Irada (Movie Still)
Irada is one of those rare films that manages to keep you tightly in its grip, even when it is talking about a socially relevant issue. Talking about a deeply disturbing issue of ecoterrorism in Punjab, the first time director Aparnaa Singh impresses with the deftness and confidence with which she handles the subject in hand.
Ex army man Parabjeet Walia (Naseeruddin Shah) is grieving for his daughter Riya (Ruman Molla) and believes in revenge being served cold. There is someone else who's fighting for justice too, a journalist Simi (Sagarika Ghatge), who's worried sick about her RTI activist boyfriend having gone missing. Parabjeet and Simi seems to have no chance as Parabjeet and arrogant and influential industrialist Paddy who callously goes about playing with people's lives as his factories continue contaminating water with the reverse boring process. Paddy (Sharad Kelkar) is blindly supported by the chief minister, Ramandeep Biatch (Divya Dutta), as he never forgets to remind her of his position as the chief fund raiser for her political campaigns. An untoward incident brings the NIA officer Arjun Mishra (Arshad Warsi) to investigate the truth.
The best thing about this film is its writing (Aparnaa Singh and Anushka Ranjan ), which is peppered with the right amounts of dark humour and effective punches. The next best thing is the casting. Iraada flaunts a bunch of brilliant performances. Naseeruddin Shah as a desperate father is so real that you yearn to reach out and comfort him. Arshad Warsi plays a well written, quirky, street smart character and he does great justice to it. Divya Dutta and the young Ruman Molla come up with outstanding performances. Sharad Kelkar looks the part and does a good job.
Aparnaa also comes up with a unique way of ending credits rolling, where a bunch of scenes scroll up to tie the loose strings if any, in the film.
The only weak point of the film is its climax. For a film that clearly has a lot of research and thought gone into it, the climax comes across as too simplistic and convenient, thus somewhat diluting the angst that one feels during the rest of the film.
Rating: 3.5 on 5