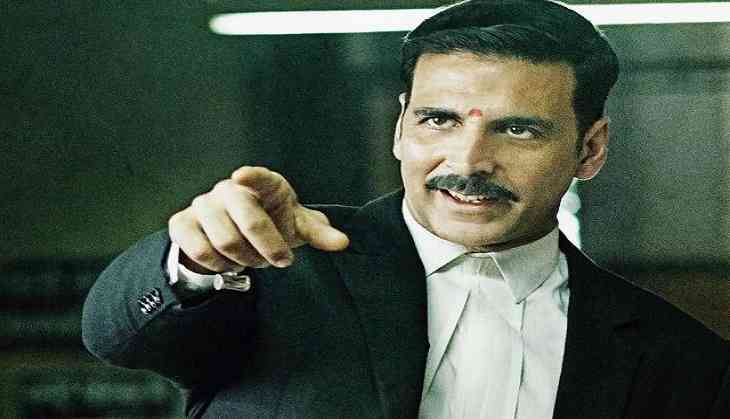 Akshay Kumar (Movie Still)
Akshay Kumar's latest film Jolly LLB 2 has crossed Rs. 100 crore mark in India, according to makers. This said to be his fourth film in a row to do great business at box office after Airlift, Housefull 3 and Rustom last year. During a media interaction Akshay spoke about his co-stars and upcoming film Toilet –Ek Prem Katha.
Ask him about delivering back to back box office hits, he says, "For me the love my audience is more important than the business. I think I have earned enough money. It is also important to get right script, character, director and studio. It was my first experience with them and I would want to do more films for them."
Talking about what worked in favour of the film and preparations he says, "I have never dealt with lawyers, as I never got into in any legal trouble. Subhash Kapoor (director) explained to me everything because he was a political journalist before turning a director. So he had covered cases and knew how it works. I have never been inside a court. I think what has helped this film is team work and screenplay. Moreover Saurabh Shukla, Annu Kapoor, they are the biggest pillars of the film, Huma Qureshi and Sayani Gupta have also done wonderful job. I got to learn many things from Saurabh and Annu ji. I used to listen to them. I always used to crack this joke on the sets that Subhash has got six actors from NSD and four actors from FTII and I am the only one who is from Khalsa College."
Does he think that he has managed to get the pulse of the audience now? "I don't think I have managed to catch audience's pulse, it is just a phase and your hard work pays off eventually. Many people make good films but they don't do well. But they always think that they are making Mughal-e Azam or Pakizaah. But it does not happen sometimes some film works, sometimes it doesn't."
Do you select a subject of the film which revolves around a social issue? "I don't plan anything; I decide to do the film only when I like the subject. If I feel that I need to bring out this issue then I go ahead. Like I am doing a film, Toilet –Ek Prem Katha, I am sure many of you know that 54% of Indian people do not have toilet. Isn't it an alarming thing? I got a good script, so I said that I want to make this film. It is a taboo thing to talk about. When I announced the name, many people called me to ask why I am using this title. This issue is there on the face, so I am talking about it and why should we run away from it. It is one of biggest problems we have. There are about 1000 children that die due to diarrhoea in India. It is a real story and I thought if the messages will be conveyed in a commercial way, it will help to reach to larger audience. Government has made toilets but people don't use it and turn it into a commercial place. India is number one country which has no toilets in proportion to population. It is a shameful thing."