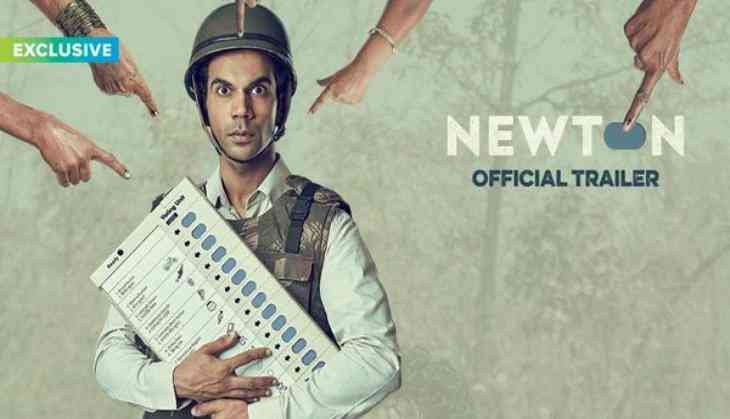 Good wishes are pouring in from all quarters on Bollywood actor Rajkummar Rao in amid his movie "Newton" has been selected as India's official entry to the Oscars for the Foreign Language Film category.
The story of the film revolves around a young government employee Newton Kumar -- essayed by the critically acclaimed Rajkummar Rao -- who is sent out to execute an election in a Maoist-prone area in Chhattisgarh.
"I felt very happy when I got the news," says a thrilled Rajkummar. "It's a huge achievement for all of us. We all are hoping that it makes the cut. The film has opened today (Sept 22) and we've been getting a good response [from the critics and the audience]. And now this. It's like a double celebration for us. All of us are thinking of meeting tonight and planning how to make merry celebrating the news."
Very happy to share this news that #NEWTON is India's official entry to the #OSCARS this year. Congratulations team.

— Rajkummar Rao (@RajkummarRao) September 22, 2017
The movie, which released on Friday, has been raved about by critics and the film fraternity. It had premiered at the 67th Berlin International Film Festival.
Rajkummar says, "It's a one-day story (in the film) and we had to shoot in natural light. Say, if the scene showed the time of about 8am, then we shot at 8am. When the clock struck 9am, we began shooting the scenes where something would happen around 9am. To finish what we had started at 8am, we'd wait till 8am the next day."
Newton is produced by Drishyam Films and is distributed by Eros Entertainment. The film also sees Pankaj Tripathi, Anjali Patil and Raghubir Yadav and got released on September 22.
"I am very proud of Newton. It's a wonderful film," says Rajkummar. "I remember how much I loved the script when I read it. If I like a particular character or story, I usually say yes to the film. I love playing different and challenging characters on screen, and Newton is one such role. But I'm someone who doesn't think so much about what will happen next. Whenever I like a character or a script, I take up the project and leave the rest to the audience."
"It's like a windfall. We first got all those amazing reviews days before release. Then on the day of the release, we get to hear the film is going as our entry into the Oscars. What more could I ask for," said director of the film Amit V Masurkars.