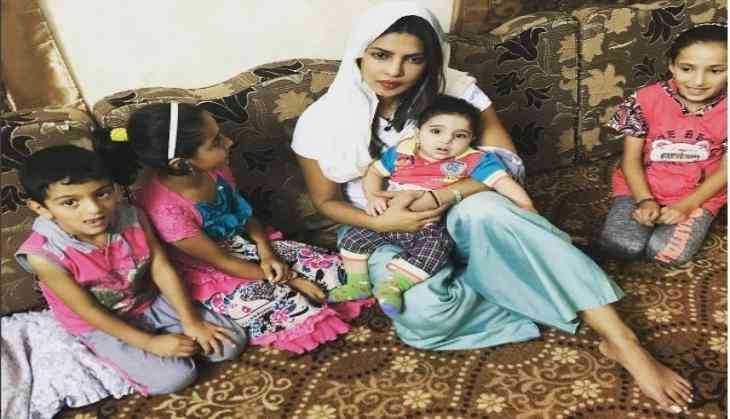 "I didn't do it", Ravindra Gautam denies slamming Priyanka Chopra on Twitter
Actor Priyanka Chopra, who recently visited Jordan as the Goodwill Ambassador for UNICEF, has been posting several pictures and videos from her trip. Her posts essay the struggles that the Syrian refugee kids are facing.
Amidst her posts, there has also been news that the actress slammed producer Ravindra Gautam on Twitter after he tweeted reminding Priyanka about the problems faced by Indian children in rural areas.
The tweet read, "I would request @priyankachopra that do visit rural areas of India where malnourished kids waiting for food. #MissionForChildren" This seemed to have irked the actress, who in return posted, "I've worked with @UNICEFIndia for 12 yrs & visited many such places. What have you done @RavindraGautam_ ?Y is 1 child's prob less important than another? (sic)"
However, this online tiff has come out to be a case of mistaken identity. Ravindra, who is producing the show Meri Durga, is not the one who has tweeted to Priyanka Chopra but someone else, who is going by the same name on twitter."My handle is Ravindra_RG and I have been on twitter for 5 years. Yesterday, my son called me up asking me about the tweet and then I realized I hadn't tweeted anything. I checked it up, it was some other Ravindra Gautam, who calls himself a film critic. There is only one Ravindra Gautam in the television industry, people started calling me and I had to clarify that I have not tweeted anything," he says.
Clearing the uncalled for misunderstanding Ravindra said, "I think impact can be negative. I don't know Priyanka Chopra and she does not know me, and if she comes to know that I am associated with the film industry, it will create a bad impression. I work in the same industry and have directed a film also and intend to make more."In fact, the producer says that he always makes sure to keep his tweets generic.
"My tweets are not only about my shows, they are generic. They are about the social fabric, politics, the television industry. I rarely tweet about the film industry because I feel I have seen very little of it hence would be unfair to comment. Moreover, I directed a film called Ekkees Toppon Ki Salaami, which though was critically acclaimed, didn't do well commercially so I know how challenging it is to make films," he says.
When asked how he feels about the whole scenario of Priyanka posting pictures and videos of her trip, he said, "It is very normal for her to associate herself with a social cause and that's her personal space."