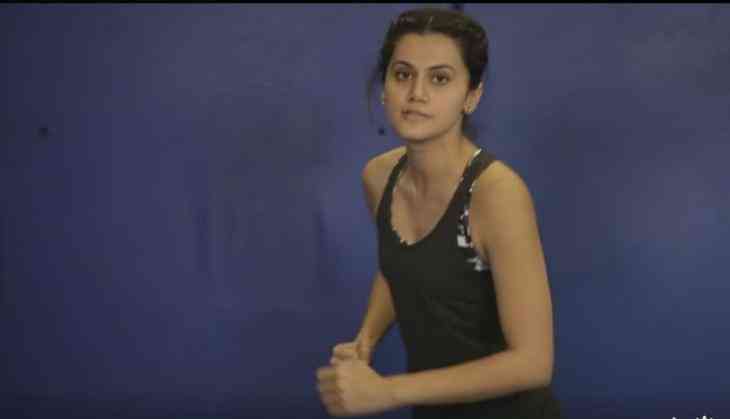 Taapsee Pannu, who has been portraying strong characters in her films, says in real life she is a non-violent person.
'I can't even slap someone in real life. Naturally, I am quite a hyperactive girl because I was into sports in my school days. So, because of that, my attitude seems like that only. Otherwise, I am a non-violent person in real life,' she said at the launch of training video of the new song 'Zinda...' from 'Naam Shabana' on Friday.
After delivering a powerful performance in the critically acclaimed 'Pink' last year, Pannu is back with another intense film 'Naam Shabana', in which she plays the no-nonsense and fearless spy Shabana.
Speaking about the filmm she said: 'I had to practise a lot for action sequences. Sometimes I had to take physiotherapy because I felt stiffness in muscle and joints became weak because of action stunts. Mentally and physically this character is really very tough for me because it is not at all related to my personality.'
On being asked, as the film is a spin-off of the hit film 'Baby', is there any pressure for her, she replied: 'We have the same star cast in the film but Akshay is in a cameo. Also, there are Manoj Bajpai and Prithviraj Sukumaran who are also outstanding actors in their own way.
'However, playing the title role isn't a pressure for me because Neeraj (Pandey) and Akshay sir supported a lot. I am not in a pressure but I am excited to learn that if being a two-film-old actress, I can play the central character in the film, then the usual idea about the industry, which says it is tough to get the lead for a new actor, is proven wrong.'
The action spy thriller is directed by Shivam Nair and produced by Neeraj Pandey. It is a prequel/spin-off from the 2015 film 'Baby' and also features Anupam Kher, Danny Denzongpa and others. The movie is scheduled to release on 31 March.
- IANS