It is always fun to interact with an actor who not only has an amazing sense of humour but is also well aware of the developments and workings of the film industry. Known for comic films like Masti, Grand Masti, Housefull, Housefull 2, Kya Kool Hai Hum, Heyy Baby, and Dhamaal etc, Riteish Deshmukh is now gearing up for the release of Housefull 3 co-starring Akshay Kumar.
In an exclusive interview with Catch, apart from Housefull 3 and comedies, the actor discussed a variety of subjects with us.
Excerpts from the interview:
How difficult is it to get the comic timing right?
I think you just need to find humour in what you are doing. With so many talented people around me, I got to learn a lot in terms of comedy. Whenever I do a film, I need to have that one character trait that I can hold on to. I try to make my character different based on that one trait. When you are working with good actors, it is great to be on the sets because you can elevate the scene to another level.
Also Read: #CatchChitChat: 'Our bones are full of gags', say Housefull 3 directors Sajid-Farhad
Do you think there is a need to reinvent the comedy genre in India?
People are changing; thought processes are changing so we will have to change comedies in India. Why just comedy? We need to keep including the novelty factor in all genres. Have a look at Karan Johar -- he made K3G in 2001 and produced Kapoor and Sons in 2016. Both are family dramas but there is a change. We will have to evolve and work on something new in all aspects be it adult comedy or drama or a family comedy.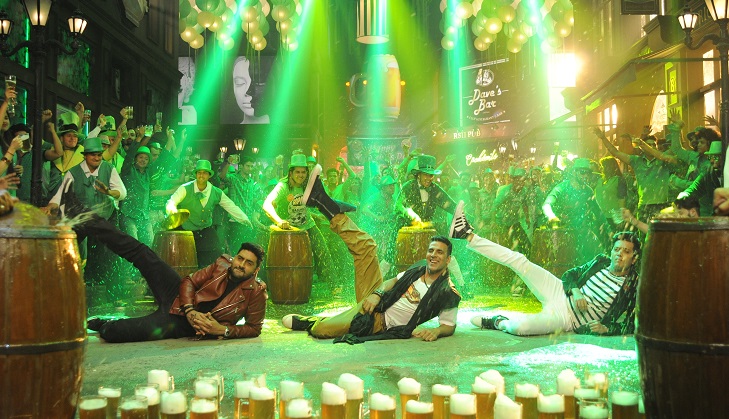 Photo: Movie Still
Housefull Franchise garners good television ratings. How much does that help in building a brand value?
If you notice, only 3 % of India's population goes to a theatre to watch a film and the rest 87 % is sitting at home. Where do they watch movies? On television. When they like a film on TV, it definitely helps build a brand for a film.
Why do you think that only 3 % of Indians watch films in theatres?
I think the ticket prices are too high for the public and I feel we should not just reduce the ticket price but also increase the screen count. We only have 5,000 working screens in India but according to me, there should be at least 20,000 screens so that more people can come and watch films.
Masti or Housefull 3: Which franchise do you enjoy the most as an actor?
I enjoy being a part of both Masti and Housefull franchises. They both are in different spaces and I enjoy both the forms of comedy.
What positives do you draw from the performance of Sairat at Maharashtra Box-Office?
Sairat doing Rs 70 crore business in Maharashtra is equal to the collections of Dhoom 3 or PK or Bajrangi Bhaijaan. Sairat is a very good film and its collections in Maharashtra as a Marathi film might be matched by three Hindi films -- Bajrangi Bhaijaan, PK, and Dhoom 3. For a film to reach Sairat's potential in Maharashtra, the overall collections of the film across India should be more than a PK or Bajrangi.
Also Read: 7 times the Houseful 3 team proved to be the masters of fun
Is Housefull 3 a situational comedy or slap stick one ?
Housefull 3 is a situational comedy. Great Grand Masti, Dhamaal would fall in the zone of slap stick comedy but ours is completely a situational one.
How do you see Akshay Kumar's growth as an actor over the years?
Akshay Kumar is a fine example of a guy who started off doing action films and has now excelled in almost all film genres. Whenever critics tried to stereotype him, he came up with something different to surprise them. He does films like Baby, Holiday, Airlift along with comedies likeHousefull 3, so that's great.
When do you start shooting for Mauli, and the Shivaji biopic?
I start shooting for Mauli in August. It is not a sequel to Lai Bhaari, but it is in the zone of Lai Bhaari. It is a complete commercial masala film. And I start shooting for the biopic on Shivaji in December this year. It will be directed by Ravi Jadhav.
Also Read: Akshay Kumar beats Shah Rukh Khan: Housefull 3 to get the widest release of 2016
Do you think comic actors in India are looked down upon?
I think the respect for a comic actor is much less compared to an actor who does dramatic or romantic films. They are considered heroes and comic actors are considered comedians. Akshay will get more respect when he does a film like Airlift and Baby than when he does Housefull or Singh Is King which are probably more successful than those realistic films.
Housefull 3 releases on 3 June 2016.