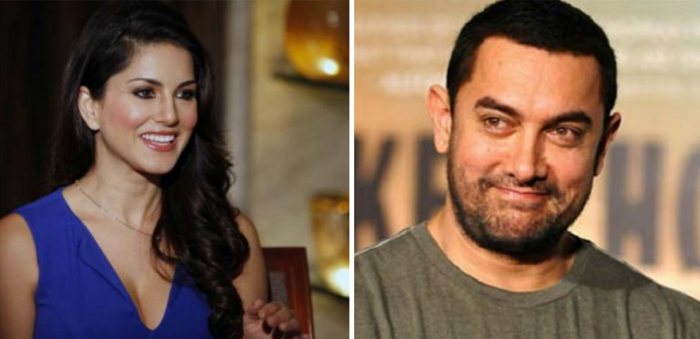 Yes, we're talking about THAT interview.Unless you've been living under a rock, there's very little chance that you missed out on the Bhupendra Chaubey interview with Google sensation Sunny Leone that was aired on CNN-IBN Monday, 18 January. The interview received a tremendous amount of flak from across the country, as all of the senior journalist's 25 questions to Leone seemed to be about her porn star past. And that too at its judgmental best.
"Do you think Aamir Khan would work with you? You would like to work with Aamir Khan, but would Aamir Khan like to work with you?" Chaubey asked the Mastizaade star to ascertain her status within the film industry. Poised and unruffled, Leone replied that she would love to work with Aamir Khan and if he did chose not to work with her, it wouldn't stop her from appreciating his acting skills or going to watch his movies.
Now, the ball was in Aamir's court. And like a real sport, the Bollywood actor has taken to Facebook to say that he has no inhibitions to work with her, whatsoever. Khan also has a few words for the interviewer, who is often described as a leading journalist in India.
"I think Sunny conducted herself with a lot of grace and dignity in this interview.... I wish I could have said the same about the interviewer.
And yes Sunny, I will be happy to work with you. I have absolutely no problems with your "past", as the interviewer puts it. Stay blessed. Cheers. Aamir."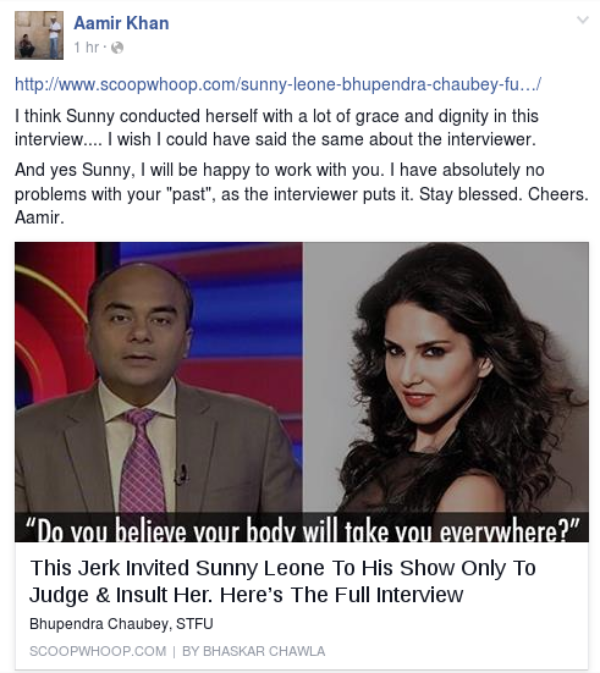 Thank you, Aamir. We needed proof that all 'educated' Indian men are not chauvinists.
Faith (somewhat) restored.