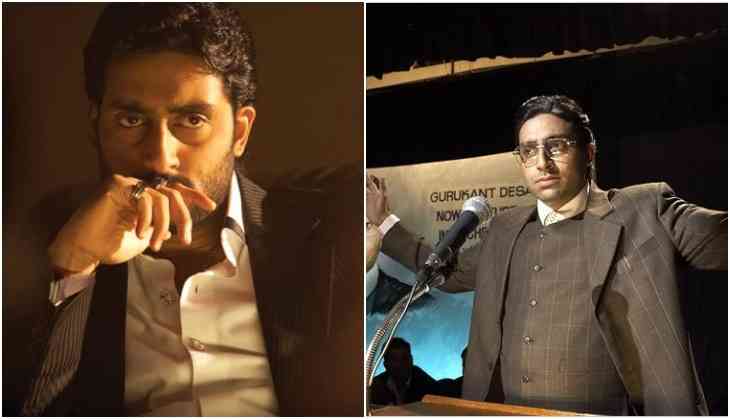 Happy Birthday Abhishek Bachchan: An actor whose surname overshadowed him; 7 best performances of 'Guru' actor
Bollywood actor Abhishek Bachchan is celebrating his 42nd birthday today on 5th February and actor who was born to legendary actors Amitabh Bachchan and Jaya Bachchan had worked in more than 50 films till now. The most awaited actor of his time, Abhishek Bachchan made his debut in films through JP Dutta's film Refugee alongside Kareena Kapoor.
However, the film flopped at the box office but somehow slowly Abhishek managed to grab his position in the filmdom. The Dhoom 2 actor has delivered several performances that after watching this you will surely say where is he right now why we can't see him performing like this now. Well, maybe he has taken a break but surely he will have a great comeback on silver screen.
Here are 7 performances of Housefull 3 actor Abhishek Bachchan that shows why he is different and he is own persona in acting.
1. Guru (2007)
It was filmmaker Mani Ratnam's film that shows a journey of a common man to become the most successful businessman Guru Kant Desai. It was a journey of a man from his teenage to the elder age and how he turned out India's successful businessman. Even today no one can match up the level of Abhishek's acting in this film.
2. Sarkar (2004)
Now what we should say about Sarkar, Abhishek played a young foreign returned boy Shankar Nagre of a politician family, but how he helped his father Subhash Nagre (Amitabh Bachchan) and takes revenge from his enemies smartly. His acting was on top the cloud in this film of Ram Gopal Varma.
Also Read - Padmaavat Box Office Collection Day 11: Bhansali, Ranveer Singh, Shahid Kapoor gets highest grossing film of their careers; film enters 200 crores club
3. Yuva (2004)
Abhishek Bachchan played the role of a political goon who helps a politician in terms of power. He was ruthless, abusive to his wife, angry young man, ready to fight. It was a treat to watch an actor like Abhishek Bachchan in this kind role when he has grown up in a well-mannered environment.
4. Bunty Aur Babli (2005)
The conman Bunty, now how can someone forget this small town boy Bunty who made con as cool as he can. Even he was a conman in the film but still, the girls were crazy to have a conman like him. He and Rani Mukerji played a con couple and it was not less than a flavour of Indian cinema.
5. Kabhi Alvida Naa Kehna (2006)
It was a Karan Johar's film totally a grand scale erected film, everyone was on top notch from performances to sets. The interesting thing is that it was a story of the extramarital affair having leading pair of Shah Rukh and Rani but still audience recalls this film as one of the best performance of Abhishek Bachchan, an innocent husband who doesn't have a single fault in losing his wife.
Also Read - Brahmastra actor Ranbir Kapoor returns to Yash Raj Films; ready to do a film with this hit filmmaker
6. Dostana (2008)
The coolest gay, however, Abhishek always have been seen as an actor with total machoism but still, he took a risk to play a gay on silver screen. It was a comedy film and Abhishek was top of the notch in the film, even there is John Abraham but Abhishek's comedy made this film a classic to watch.
7. Bol Bachchan (2012)
Again Abhishek the comedian and again a gay, however this time for fun. In this film of Rohit Shetty, Abhishek played a double role and one of Abbas and another one of Abhishek. Both the roles had their own space and the best thing is that Abhishek played both roles gently and beautifully.