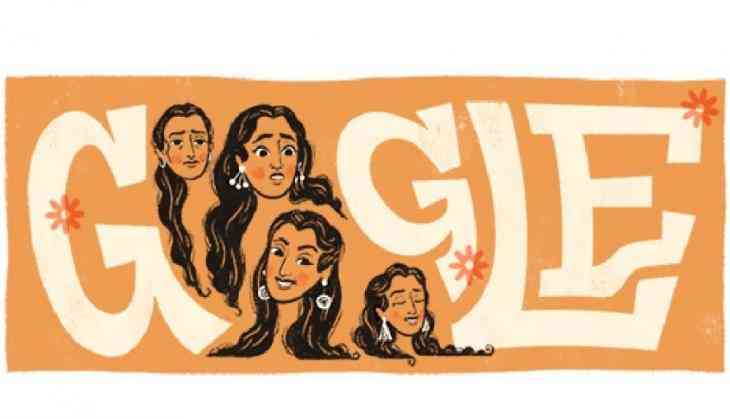 Google Doodle caricatures actress Nutan on her 81st birth anniversary (Google)
Google India has today dedicated its doodle to one of the most celebrates actress of Indian cinema, Nutan, to mark her 81st birth anniversary.
The cheerful doodle, appeared on the Google India homepage just after the midnight, captures her different emotions- happy, sad, and dramatic - in the two 'O's of Google logo.
Born as Nutan Samarth, she appeared in more than 70 Hindi films in an illustrious career spanning over four decades.
She was the only actress to hold five Filmfare 'Best Actress' awards until her niece and Tanuja's daughter Kajol broke the record in 2011. She is overall the most-awarded actress in the female acting categories at Filmfare, with six awards, alongside Jaya Bachchan.
In 1974, Nutan was awarded the Padma Shri by the Government of India.
Part of the Mukherjee-Samarth family, she was the daughter of film actress Shobhna Samarth and filmmaker Kumarsen Samarth, and the granddaughter of actress Rattan Bai.
Nutan started her career at the age of 14 in the 1950 film 'Hamari Beti,' directed by her mother Shobhna. She subsequently starred in films as 'Nagina' and 'Humlog' (both 1951). Her role in 'Seema' (1955) garnered her wider recognition and a Filmfare Award for 'Best Actress.'
She continued playing leading roles through the 1960s until the late 1970s and went on to win the awards for her roles in 'Sujata' (1959), 'Bandini' (1963), 'Milan' (1967) and 'Main Tulsi Tere Aangan Ki' (1978).
In the 1980s, Nutan started playing character roles and continued working until shortly before her death. Her performance in 'Meri Jung' (1985) earned her a sixth and last Filmfare Award, this time in the 'Best Supporting Actress' category.
Nutan was married to Rajnish Bahl in 1959 and is a mother to famous actor Mohnish Bahl.
She died on February 21, 1991, at 54, after being diagnosed with breast cancer.
-ANI