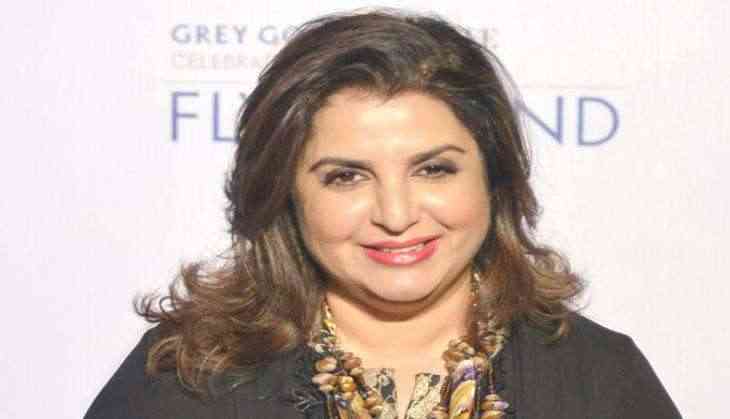 Farah Khan is returning to television with her new show Lip Sing Battle. The choreographer turned director has admitted that she has been bit tired after shooting continuously for her show but is also thrilled to be back on television with new and exciting concept.

What brings you back to television?

This was a really good concept; it is an American show of Jimmy Fallon. It has really done well there. They have had 3 seasons so far. So when Fremantle approached me they had already bought rights for the show. I found it interesting but I thought that we could make it more interesting than the original show. It was something different than the regular shows as celebrities won't be coming on the show as judges or to promote their films. The challenge is to get them and make them do madness and things which they have never ever done.

Have you watched any episodes of the original show?

I watched them but I found them very simplistic. I genuinely feel that what we are shooting is far funnier and bigger, madder in terms of production values, the kind of guest appearances we are getting. For example I shot with Ayushmann Khurrana recently, he performed on Meri Panty Bhi Sexy and as a surprise I got Govinda to come at the end of the show to dance with him.

How do you find this role interesting?

In this show I am not a judge but a presenter. It is nice in a way because I don't want to judge my friends from the industry. They are all working so hard. It is good that I don't have to judge them and decide who the winner is. There is a live audience around 250 people and they decide who they find is better than other person.

How has been the response and experience for the show?

The show will go on air on the weekend but as far as live audience is concerned, it has been fantastic. In fact the people who are coming as celebrities they are also enjoying it a lot. They have all called me back after show and said that they have never had such a good time because they are getting to do something challenging and which they have not done before. In this show they are not allowed to perform on their own songs. Normally whenever they are called to perform, they have to perform on their own songs.

Do you have a wish list for guests coming on the show?

Getting celebrities is not an easy task, everybody is busy. It is true that they make time for me but the things are we have to get more than two celebrities in one episode. Getting their dates together and co-ordinating things is bit difficult. Other than that whoever I have called is coming happily, since I also go on their shows. In directors I guess Karan Johar can only do this show and he has already shot with me. I can imagine any other director coming and doing this and having fun. As far as actors are concerned, all of them are coming. We also ask the actors what are their comfort factors, like some of them know what they are good at and what they want to do. Like Farhan Akhtar knew he wanted to do Rishi Kapoor's Om Shanti Om, he used to do that when he was younger, Ayushmann said that he used to perform on Meri Pant Bhi Sexy in his college days. Shah Rukh Khan, Varun Dhawan, Shilpa Shetty are coming and the senior actors will come to watch performances

All this information must be helping you while approaching them…

Yes, of course all this knowledge and what they are good at. It is also good that they are comfortable enough with me to agree to do that and mad things. I don't know if you guys have seen Raveena Tandon's photos. So to get a heroine to do Anil Kapoor was next to impossible. They all do it with complete enthusiasm. I had sent her pictures to Anil Kapoor and he was like who is this, is he a real character. After five minutes he replied saying Oh my god it is Raveena.

Do these actors get time to rehearse?

Yes, we want them to be prepared for the episode; I don't think anybody has come without rehearsals. I guess Arjun Kapoor came and then he saw Farhan performing and then he had to take break of 2-3 hours. Then he rehearses and performed. But everyone who is coming wants to rehearse because it is not easy to lip sync songs and perform on someone else's songs. They have got background dancers and props.

How this show is different than other shows?

See here you are watching celebrities performing on the songs of other actors and they too have not done it in the past. People will get to see them in their maddest and funniest best. I will not be commenting on it but will look after the creative side of the show, figure out who will do what. I have to tell the choreographers how to make it funny, what they are capable of. But once it is done then I don't have to do anything.

Are you working on any films?

Yes, the shoot for this show will get over by October. Then I have plan to sit down and start work on my next film.