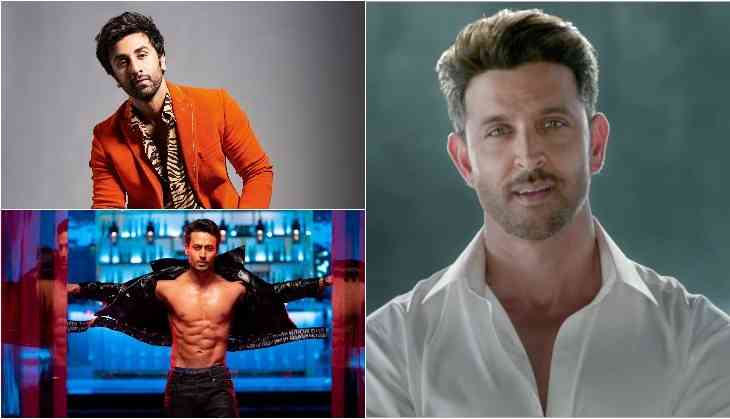 Fathers are always an inspiration for their children and whatever a child learns they learn it from their parents. Working hard to fullfill their children's wishes. But a father feels proud when their children with their successes make their hard work paid off. On Father's Day 2019, we are going to tell you about the actors in Bollywood who proud their fathers after being from a film family.
The comparison between father-son has always been so relevant to the film industry and whenever any star kid launches in the film industry their comparison becomes most trouble thing. We have seen several star kids failing to get successful like their parents, but in between those there are some star kids who have literally become big stars than their fathers.
1. Hrithik Roshan - Rakesh Roshan: No doubt, Rakesh Roshan has been the most successful director and also an actor in his time. After that, he launched his son Hrithik Roshan through Kaho Na Pyaar Hai and the Hrithik became an overnight sensation. Currently, Hrithik Roshan has always been called the last superstar of Bollywood.
2. Ranbir Kapoor - The youngest Kapoor clan and son of actor Rishi Kapoor made debut in 2007 with full of expectations. Maybe there was any star kid who had so much pressure like what Ranbir had after being a grandson of legendary filmmaker-actor Raj Kapoor. But in the spanning career of 12 years, Ranbir Kapoor is now the biggest brand of Kapoor family. Even when it comes to acting, he has totally fulfilled the expectations and showed a new way of acting in the filmdom.
3. Tiger Shroff - Veteran actor Jackie Shroff has his own swag and style in the film industry and he even had done some memorable films in his career. His son Tiger Shroff made debut in 2014 with Heropanti, and guess what he was totally opposite to his father. One hand Jackie has always been appreciated for his manism but when Tiger made his debut he faced a lot of criticism for his looks. And now after 5 years, Tiger Shroff has no doubt become a more brand than his father and also a guarantee of success at the box office.
4. Varun Dhawan - Varun Dhawan is the son of famous and successful filmmaker David Dhawan. David Dhawan had a most amazing record at the box office and his most of the films have done well in the show business. The expectations were high from Varun Dhawan when he made debut in 2012 with Student Of The Year. But what by surprising all and being a box office king, Varun Dhawan turned out to be the most successful star in his era. From his debut year 2012 to 2018, he has not seen a single flop till his film Kalank tanked at the box office in 2019.
5. Shahid Kapoor - Actor Pankaj Kapur has always been counted as the most versatile actor and his work has always been appreciated at several occasions. When Shahid Kapoor came on screen for the first time he immediately got popularity for having a chocolate boy image. Although, Shahid Kapoor has different plans for him and with this time he also proved himself being one of the most versatile actors in Bollywood.
Also Read - Kareena Kapoor to star opposite Aamir Khan in 'Lal Singh Chaddha' after 3 Idiots and Talaash!