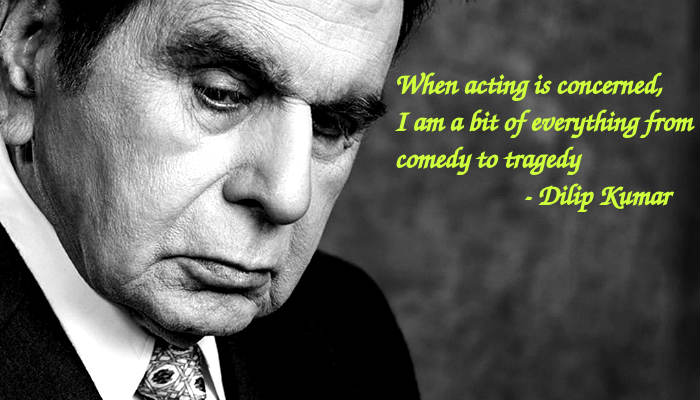 As he turns 93 today (11 December ), legendary actor Dilip Kumar will have a quiet birthday celebration as a mark of solidarity towards the victims of the Chennai deluge.
"We will have a quiet birthday this year with family only. He is saddened by the tragedy in Chennai. It's a big tragedy and we don't think it is right to celebrate anything," Kumar's wife Saira Bano told PTI.
Even otherwise, Saira is not in favour of having a bash on the thespian's birthday, as she feels that whenever his special day is celebrated, the veteran actor falls sick.
"I think whenever we celebrate his birthday, he falls sick. I feel there is an evil eye, as soon after after the celebrations he has health issues," she said.
Also read: Dilip Kumar turns 93, A recap of his Suhana Safar in Bollywood
Dilip Kumar's filmography
Dilip Kumar made his debut as an actor in the film Jwar Bhata in 1944 which was produced by Bombay Talkies.
In a career spanning over six decades, he starred in films of a variety of genres, such as the romantic Andaz (1949), the swashbuckling Aan (1952), the dramatic Devdas (1955), the comical Azaad (1955), the historical Mughal-e-Azam (1960) and the social Ganga Jamuna (1961).
Also read: They don't make them anymore: 5 working class heroes from Bollywood
The 'tragedy king of Bollywood' also did films like Kranti (1981), Shakti (1982), Karma (1986) and Saudagar (1991) and others. His last film was Qila (1998).
The Government of India honoured him with the Padma Bhushan in 1991,the Dadasaheb Phalke Award in 1994 and the Padma Vibhushan this year for his contributions towards Indian cinema.
The Pakistan government also honoured him with its highest civilian honour - Nishan-e-Imtiaz - in 1997.
-- PTI