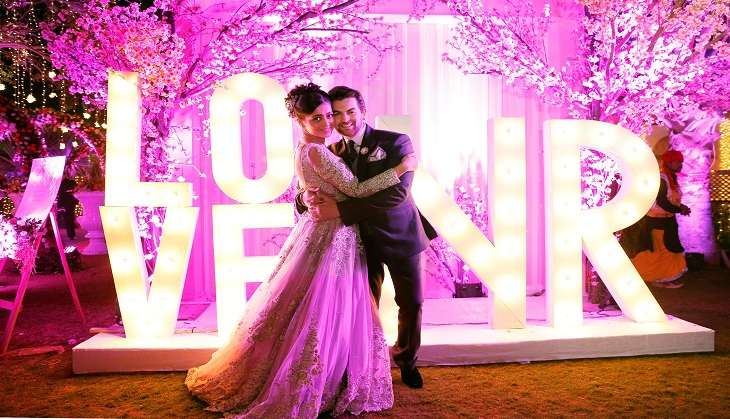 Neil Nitin Mukesh goes on his knees to propose his fiancée Rukmini Sahay, even as they kick start their pre wedding festivities in Udaipur
Legendary singer Mukesh's actor grandson Neil Nitin Mukesh is all set to marry Rukini Sahay on Friday. The engagement ceremony took place in Udaipur on Monday in presence of close family members. The entrance of the venue had a welcome note that had verses from the retro song Hum Tum Yug Yug Se (sung by Mukesh). Later in the evening Neil's father Nitin performed on his dad's popular number, Ek Pyaar Ka Nagma Hai during his thanksgiving speech. Right from the groom's best friend and brother -in-law to the bride's aunt and the groom's father's childhood buddies; everyone delivered a touching speech that took close family and friends down memory lane.
Neil played the perfect gentleman as he escorted his mother-in-law to the stage as she delivered a touching speech and got emotional while talking about giving the daughter away but she was happy that her daughter was in the most apt and able hands.
The groom, obviously in high spirits, says, "It is brilliant to see the family getting together. I'd like to call the big fat family get together rather than the big fat Punjabi family. It all just feels like a family holiday"
Later, Neil went down on one knee and proposed to his lady love and proclaimed that her happiness made a world's difference to him. Rukmini played a perfect sport and responded to the gesture with her own speech dedicated to the man she's just about to get married to. This was followed by the ring ceremony, some champagne popping, cake cutting and some heavy duty dancing. The engagement ceremony will be followed by the mehendi and the sangeet today and the wedding ceremony tomorrow. The actor has a wedding reception planned for his friends in Bollywood on February 17 in Mumbai.