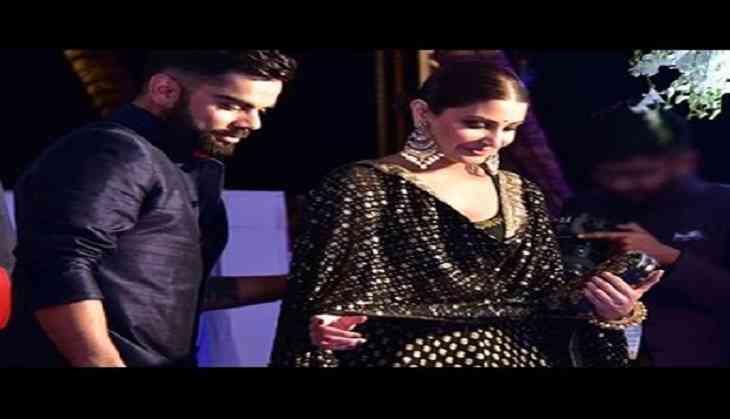 The most talked about couple Virat Kohli and Anushka Sharma are up for their wedding which is going to take place in Italy, as suggested by recent reports. However, no official confirmation has been given from both the sides but both their families have flown out of the country along with the family pandit.
There has been a lot of buzz doing rounds about their wedding, the venue, their guest list, the venue, the reception that is going to be held on December 22 and what not but there has not been any official announcement yet. However, the news got the fuel when the actress was spotted leaving the country along with her parents and family guru. The cricketer too had left for Italy.
ALSO READ: Anushka Sharma, Virat Kohli to get married at this beautiful vineyard in Italy; see pictures
Since everyone was so quiet about the event happening or not, the Bollywood industry too was shy to congratulate the couple on the social media websites. However, during the Lux Golden Rose Awards that was held on Sunday, many Bollywood celebrities congratulated the love birds on their marriage.
As per reports published in The Indian Express, many were unaware of the event (or maybe acting the same) but there was one actress who solved the biggest mystery by congratulating the couple. Jacqueline Fernandez, when she was asked about their wedding, could not resist her happiness and said that she was too excited for their marriage. Since, it was an amazing news, she was really excited and happy about the same.
ALSO READ: Here is what the astrologers have predicted about Virat Kohli and Anushka Sharma's married life
According to further reports by the Indian Express, when various actors such as Katrina Kaif, Madhuri Dixit, Bhumi Pednekar and Sushant Singh Rajput were quizzed about the same, they first said that they weren't sure if it was truly happening or not but if it truly is then they all led out their congratulations for the good-looking couple Virat and Anushka.
ALSO READ: Virat Kohli-Anushka Sharma not getting married, they are already married; here is the proof
Everyone is truly waiting for the marriage of the year to happen. The wedding reception will take place on December 22 at a suburban hotel in Mumbai. The wedding guests include stars of both the Bollywood and the Cricket fraternity and include some big names such as Yuvraj Singh, Sachin Tendulkar, Shah Rukh Khan, Deepika Padukone etc.