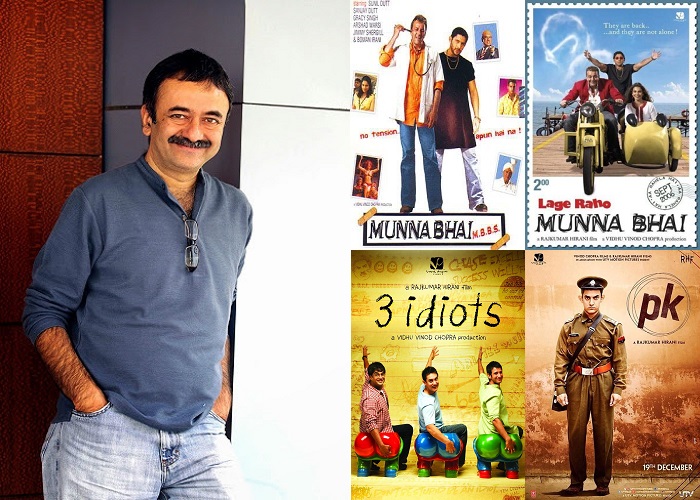 Rajkumar Hirani, one of Bollywood's best loved directors, turns 52 today. The director, who is known for his humility, has given us hits like the Munnabhai franchise, 3 Idiots and PK.
Personality influences art, it is said. Hirani seems to truly embody this adage. He raises the bar with every film and seldom shies away from picking unconventional topics for his films. He is one of the few directors in Bollywood today who makes movies that emphasise on the message and simplicity over stylisation.
Also Read: Munnabhai to be back soon, Rajkumar Hirani spills the beans
Hirani often pens the scripts of the films he directs. His tales have an emotional pull and are often aimed at getting audiences to question the system.
Almost all his films tackle ills facing society. Be it corruption, rampant superstition, or even the failures in the education system, nothing escapes Hirani's watchful eye. He observes and presents these issues in a subtle and humorous manner. His films have also influenced audiences to implement some of his solutions.
Also Read: Sanjay Dutt biopic will be my most entertaining film till date, says Rajkumar Hirani
Be it the Jadoo Ki Jappi from Munnabhai MBBS, the Gandhigiri from Lage Raho Munnabhai or even the mantra All Iz Well from 3 Idiots - all of these have found immense appreciation and acceptance with the audiences.
As a director, Hirani's biggest achievement is that he succeeds in making people laugh out loud, without ever resorting to vulgar humour. If there is anyone who can leave the audience teary-eyed at the end of a film, its Hirani.
Also Read: #CatchFlashBack: When Shah Rukh Khan was Rajkumar Hirani's 'Munnabhai'
Think about it. How many directors can explain the importance of a condom - like Hirani did in PK - without making a general audience uncomfortable?
Another gem, the hilarious speech by Chatur in 3 Idiots, which mocks those who fail to think for themselves.
Hirani also managed to essay the 'Tapori' culture in the Munnabhai franchise and managed to keep things classy, giving audiences an iconic character in Munnabhai, played by Sanjay Dutt.
As the director gears up to shoot for the Sanjay Dutt biopic with Ranbir Kapoor, here's wishing him many happy returns of the day.