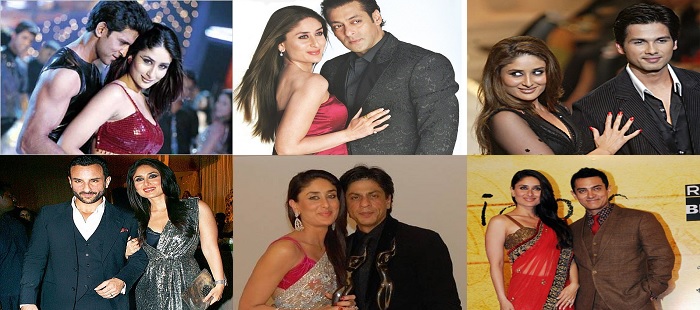 Bollywood actress Kareena Kapoor turns 35 today. Kareena is currently shooting for Veeray Di Shaadi with Sonam Kapoor and was last seen in Abhishek Chaubey's Udta Punjab.
Kareena is one of the very few actress who has maintained her friendship with almost all her co-stars, including the three khans, Hrithik Roshan, Akshay Kumar, Ajay Devgn and of course her husband, Saif Ali Khan. The actress has truly been the industry's official 4 am friend as she has done many special appearances for her co-stars, the last one for Akshay Kumar in Brothers.
As she celebrates her birthday, here are the diva's six quotes about her co-stars:
Shahid Kapoor
Shahid Kapoor is a fantastic actor and has been a part of some really good films of late. I wish him all the best for life ahead and I would love to work with him yet again. Working with Shahid will require a very good script, so let's see when it happens.
Shah Rukh Khan (Filmfare)
He is the biggest star of the Indian film industry. There may be great actors and superstars but there will be only one phenomenon that is Shah Rukh Khan. The kind of charisma he enjoys no one else can. He was the first superstar I worked with. Asoka was a memorable experience. He puts a lot of energy in everything. He has an infectious energy and I think black coffee is the reason for him being energetic all the time. His dedication to work is amazing. When he's around, everything comes alive - even the dullest scene.
Salman Khan (Times of India)
He's the biggest and the greatest superstar of his generation. People love him as he is honest, real and makes no bones about what he does. Every actor wants to work with Salman Khan. He is the greatest superstar. I don't want to work with him just because I am excited it's Salman Khan, but because I deeply respect him. I respect his superstardom and people love to see the both of us together. 'He is the biggest superstar India has ever had and India will ever have.'
Aamir Khan (Hindustan Times)
There was already buzz around Taalash, but for me, it was about working with Aamir. I am a huge Aamir Khan fan! I love him. Saif also knows this.
Saif Ali Khan (Femina)
I have been lucky to experience both professional success and a fulfilling personal life with Saif. So hopefully, I would be having a family of my own. Saif and I will continue to live in India. But we will see the world with our children. When I turn 70, I should be sitting in a large dining room with my family, and just laughing, eating and drinking.
Hrithik Roshan (Hindustan Times)
When Hrithik didn't do the film (Shuddhi), I don't think it just made sense. Because that film I think was all about Hrithik and Kareena coming back. I can't imagine Shuddhi without Hrithik Roshan.