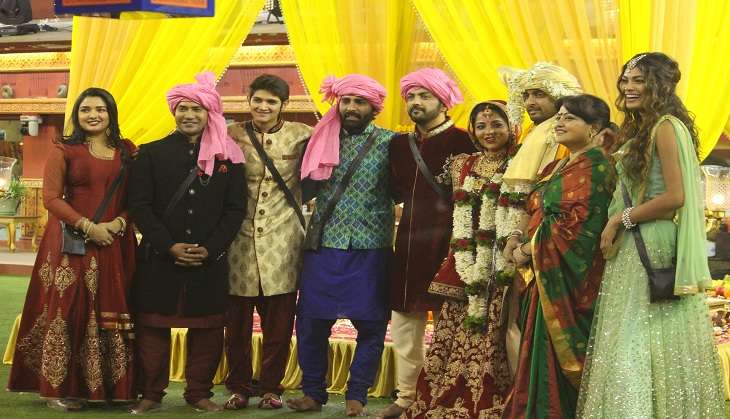 Bhojpuri actress Mona Lisa, who got married to her boyfriend Vikrant Singh on reality show "Bigg Boss 10", says her marriage on national television is not a publicity gimmick.
After surviving in the house for 14 weeks, Mona was eliminated on Saturday night from the show and one of the major highlights of her stay was her marriage with Vikrant on TV.
When asked about reports that the duo got hitched on the show to grab eyeballs, she said, "I am doing good in Bhojpuri films, people do know me and after taking part in 'Bigg Boss' more people started to know more about me.
"I don't need to be get married for publicity. We were in a relationship for eight years and were planning to get married. It was heart-warming. It is sad when people think it is a publicity stunt," Mona told PTI.
This is the second couple to get married on "Bigg Boss" after Sara Khan and Ali Merchant.
During her stay in the "Bigg Boss" house what grabbed audiences' attention was her close friendship with fellow contestant Manu Punjabi.
"I was very hurt when reports of closeness with Manu came out. When you are in the house locked for 24 hours one is bound to be friends with someone. That's what happened in my case...I became good friends with Manu and Manveer," she said.
On the work front, Mona said she will first finish her pending film projects.
"I will start work on some pending films. If I get some good offers from other film industry I will do if it excites me. I don't want to restrict myself only to doing Bhojpuri films only.
"I am very happy to be out of the show. Now that I am married I was waiting to be out of the show. I am not upset.
It is not easy to stay inside the house," she added.
--
PTI