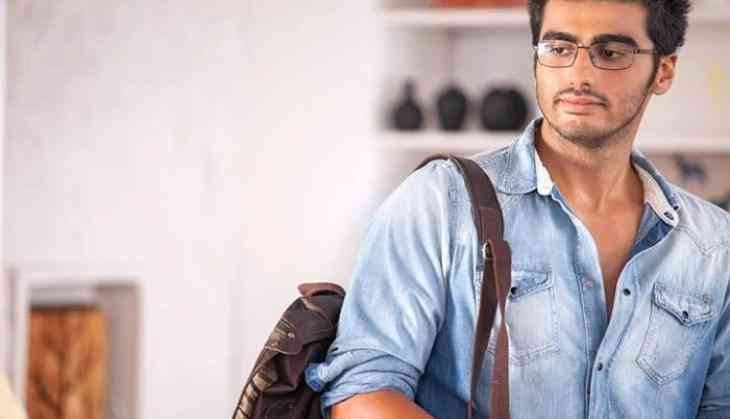 Arjun Kapoor: People are made fun of if they don't speak English well
Actor Arjun Kapoor says it is sad that people judge others on the basis of how well they speak English and those who struggle with the language are often made fun of. Arjun says there are people who will understand Hindi but will respond in English to sound cool.
'In India, if you're smart but don't understand English no one gives importance to you. If you can't speak English then you're looked at differently... This is the biggest issue in the country. You may understand Hindi but will speak in English to sound cool,' he told reporters here.
The actor was speaking at the trailer launch of 'Half Girlfriend' here. The romantic drama is based on the novel of the same name written by Chetan Bhagat and also stars Shraddha Kapoor.
Arjun says there are certain actors, who also struggle with this issue but he is thankful to his grandparents for always speaking to him in Hindi.
'People are told that if you speak English you will sound better. So, a consciousness comes in. People are made fun of, they're not taken seriously. This has personally bothered me,' he says.
'The youth of today is very fluent in English but you ask them three questions in Hindi and they face a problem. We are actors so we need to learn Hindi, and thankfully my grandparents always spoke to me in Hindi so my Hindi is clean but there are many actors also (who are not fluent in the language),' he adds.
The 31-year-old actor insists Hindi is a language which one must understand as it is something which will take the country forward.
'I feel Hindi is something you need in our country to take it forward. How can you not understand and speak your language? It's our mother tongue. But people ignore this issue and hence it is considered small.
'I hope with the film that discussion is reignited that in whatever language you speak, what you say should be understood by the other person,' he adds. The film, directed by Mohit Suri and produced by Ekta Kapoor, is scheduled to release on May 19.