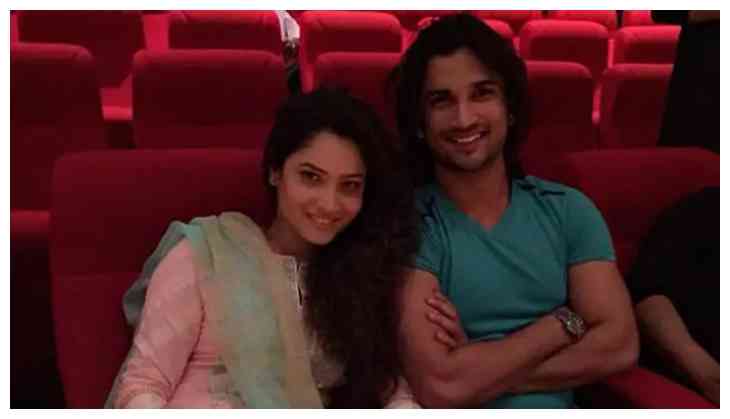 Ankita Lokhande with Sushant Singh Rajput (File pic) (Twitter)
Ankita Lokhande has been supporting Sushant Singh Rajput's family since the very first day. Once again the actress comes in support to fulfill the unfulfilled dreams of Sushant after his sister Shweta Singh Kirti asked to do so.
Recently, Ankita was spotted while purchasing the plants. She said that she wants to help Sushant's unfulfilled dream of planting 1000 trees. Lokhande also urged fans to do the same.
Ankita Lokhande has joined the campaign started by Sushant's sister i.e. #Plant4SSR. Sushant's sister Shweta urged the actor's fans to plant as many trees as they can and also asked them to post their pictures on social media.
"Can we make this happen? Let's do it for our Sushant!" she wrote.
Can we make this happen? Let's do it for our Sushant! #Plant4SSR pic.twitter.com/U4hOhSoAzF

— shweta singh kirti (@shwetasinghkirt) September 5, 2020

The Manikarnika actress was spotted by shutterbugs on Sunday when she was buying plants.
She said, "Sabko message do, plants lagao. Sushant ki 50 dreams mein se ek dream yeh tha ki woh 1000 plants lagane aur yeh meine apne taraf se shuruwaat ki hai aur I hope sab plants lagae (Tell everyone to plant plants. It was one of Sushant's 50 dreams, and I've tried to contribute from my side, and I hope others participate as well)."
The video was shared by on the official account of Viral Bhayani.
Check out what Ankita said:


Earlier on Sunday, Sushant's sister shared an emotional note in his memory. "We promised each other that we will protect each other forever. But,I failed Bhai...I failed! But here is another promise I and the whole country make to you, we will find the truth, we will get you justice!I knew my brother, the kind of person he was, full of life and joy. He was like a child, the only thing he wanted was love. Koi ek baar, pyaar se haath pher de uske sar pe, pyaar se baat karle, bas that was enough for him to make him happy. He was not a person who would take his own life. My heart is not ready to believe it. Let's keep our intentions clear, we want to know what is the cause of Sushant's death, nothing less will suffice! It is Satya ka Agrah," she wrote.
Also Read: Sushant Singh Rajput's father didn't have his new number, reveals Ankita Lokhande
Meanwhile, Sushant's death case has been probed by the three biggest agencies of the country—CBI, ED, and NCB.
Sushant died on June 14 at his Mumbai's residence. Moreover, a question is yet to be answered whether he died by suicide or was murdered.
Also Read: Check out unseen picture of Sushant Singh Rajput with Ankita Lokhande's beau Vicky Jain