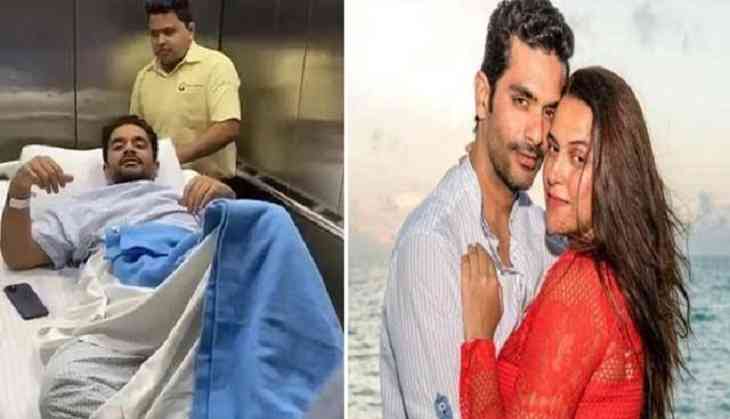 Thanks to social media which has brought celebrities closer to us. Through the medium of Twitter, Instagram and Facebook we could know single updates about their celebs personal and personal life. This time, we have brought a cute banter between Bollywood real-life couple i.e. Neha Dhupia and Angad Bedi.
Recently, Angad Bedia admitted to the hospital for his knee surgery. Before going for the treatment, Neha Dhupia's husband took to his Instagram and shared a video of his conversation with his wife.
The video was recorded by Neha and she was wishing him luck before the surgery. However, a funny moment recorded in the video when Neha pointed out at the wrong knee while doing conversation with him. After which Angad trolled her badly for not knowing about exact his injured knee.
Well, thanks to Neha Dhupia for recording the amazing moment that has been shared by Angad with his fans.
He has captioned the video with a funny words: "That's me minutes before going in for knee surgery... I think my nerves got me talking too much... captured by my wifey ( also pls note she has no clue which knee is injured 🤪🙈) but I still love her too much ... stay tuned for more ... will keep u posted with more videoes if I'm not dying in pain"
See Video:
However, Neha Dhupia and Angad Bedi got hitched on May 10, 2018. However, the couple were successfully managed to keep their relationship secret from the media glares and their fans.
Also Read: When Roadies judge Neha Dhupia faced sexism in South cinema; here's what she revealed