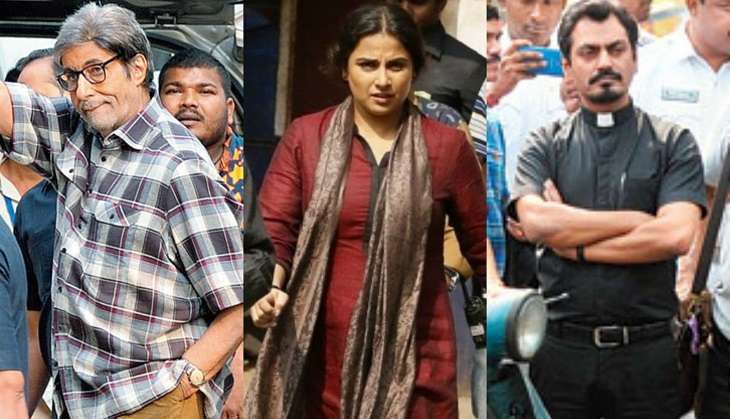 The emotional thriller, TE3N, starring Amitabh Bachchan, Vidya Balan and Nawazuddin Siddiqui, is an official remake of Korean film Montage.
The film is directed by Ribhu Dasgupta and produced by Sujoy Ghosh.
What may work for the film:
The basic premise of TE3N is quite interesting and what makes the film watchable is a superlative performance by Amitabh Bachchan, who is well-supported by a power house of talent called Nawazuddin Siddiqui.
TE3N rides on a few well-narrated sequences towards the climax, that unwind the mystery and supported by the background score that builds the tension. The intermission point is shocking and makes one expect a lot from the second half.
Also Read: TE3N: Thrillers have a repeat audience, insists Sujoy Ghosh
What may not work for the film:
One of the biggest drawbacks of TE3N is the slow pace in the first half, which makes the film boring after a while. A lot of time is spent in establishing the premise along with character introduction. While the intermission point promises edge-of-the-seat journey in the second half, sadly, the predictability factor comes into play as the film progresses.
Vidya Balan's character - a cop from Kolkata- is half baked. The character had the potential to be one of the meatiest in the film, but suffers due to a lack of convincing writing. The film is 20 minutes long for the genre it belongs to, thanks to the unnecessary emotional sub-plots.
Also Read: TE3N movie review: A meandering plot that disrespects convention to look smart
Will it do well at the Box-Office?
TE3N is the kind of film that will require good word of mouth to do substantial business at the Box-Office, which, sadly, seems unlikely. The initial reports are mixed and the opening in early morning shows is barely 10%.
Due to heavy reliance on word of mouth, the makers did not go all out to promote the film which resulted in almost NIL pre-release buzz. While it is purely a multiplex-oriented film, the confusing title will write off even the negligible target audiences in the mass belt.
Box Office Prediction:
Day One: Rs 3.5 crore
Weekend: Rs 15 crore
Lifetime: Rs 25 crore
The expected verdict is flop.