Three actors Randeep Hooda,Akshay Kumar and Ajay Devgn are going to be seen playing similar characters in three different films. Are we in for a big clash of egos?
Few days ago, Akshay Kumar with Salman Khan and Karan Johar announced the news of them coming together for a film. The film will feature Akshay in the lead role while Salman and Karan plan to co-produce it. There is a buzz that the film is based on Battle of Saragarhi.
A great idea, except that two more producers have already announced that their films are based on the same subject. Rajkumar Santoshi film titled Battle of Saragarhi starring Randeep Hooda went on the floors in Octoer. After completing a two day schedule, the unit is expected to get back on the sets for the next schedule in February. The film is expected to release by the end of the year.
What's more, Ajay Devgn had also announced some time back that his sequel to Son of Sardaar will be based on the Battle of Saragarhi. He had even announced the name of the film as Son of Sardaar: The Battle of Saragrahi. The actor had shared the first look of his film in July last year and is also aiming to release the film at the end of the year.
For those uninitiated, the Saragrahi battle is about 21 brave men of the 36th sikh regiment who gave their life up when they fought valiantly till their last breath against the British army. Their regimental battle cry was "Bole So Nihal... Sat Sri Akal", The brave soldiers were inspired by Sri Guru Gobind Singh Ji's teachings of fearlessness and not forgetting the fighting spirit.
Director Rajkumar Santoshi feels that Randeep Hooda is one the finest actors of our times and says, " Randeep is a very selfless actor who merges into his character to bring the character alive and I cast him because i wanted to bring Ishwar Singh alive in my film."
Now the question is why would the Akshay-Salman-KJo trio pick the same subject? Does it have anything to do with KJo's open fight with Devgn when they released their respective films, 'Ae Dil Hai Mushkil' and 'Shivaay' on the same day?
One remembers such a big clash happened back in 2002 when three movies were being made simultaneously on Bhagat Singh and were vying with each other to release the earliest. Ajay Devgn who was also in the centre of controversy at that point of time as he produced and starred in one of those films, went on to win the National Award for his performance.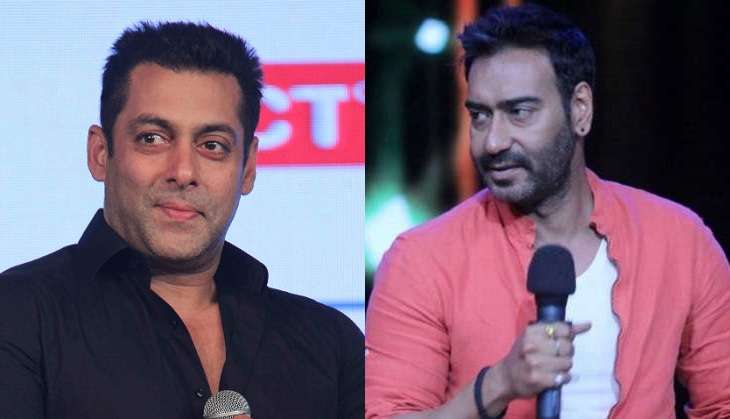 Salman Khan, Ajay Devgn (File pic)